Wednesday, November 12, 2014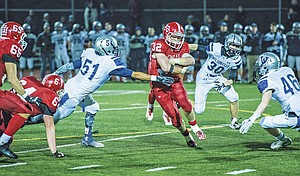 INDEPENDENCE — Throughout the regular season, Central's offense was among the most prolific in Class 5A, averaging 36.7 points per game.
Taking a 22-14 lead into the second half against Wilsonville, the Panthers experienced something they hadn't seen the entire season.
Central was shut out in the second half of its Class 5A first round state football playoff game, eventually falling to the Wildcats 31-22 Friday night at Panther Stadium.
"I'm not sure they changed anything," Central coach Shane Hedrick said. "We had some plays that were executed a little bit better than their defense at the time. Those plays didn't work as well in the second half.
"They're a well-coached team with a lot of speed. Once they figured out where our speed was, they adjusted to it. We probably could have made some better coaching adjustments, especially on the offensive side of the ball. We scored 22 points in the first half and didn't score again. You have to continue to put points on the board. I take the blame for that."
Quarterback Doug Clem threw a pair of first-half touchdowns to Madison Stepp — a 2-yard pass in the first quarter and a 70-yard pass in the second, while running back Wes Riddell added a 1-yard rushing touchdown in the second quarter.
The Panthers failed to score again, the offense struggling to sustain long drives in the second half.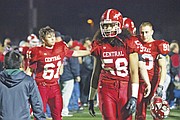 "I don't think they were doing anything different," Riddell said. "I think we got complacent and didn't execute like we should have. We didn't keep pushing the second half like we normally do."
The Panthers, who were eliminated from the postseason after finishing second in the tough Mid-Willamette Conference in the team's first year at the Class 5A level, may have surprised many with their success, but players expected to compete.
"Overall, I've still got that gut-wrenching feeling because we went out too early," Riddell said. "No one expected us to be worth anything this year, but I did and I know we went out too early. ... I loved these guys and I would do anything for them. I enjoyed every moment of our brotherhood."
Despite the loss, Hedrick said he was pleased with the Panthers' season, with a 7-2 record and 6-1 MWC mark during the regular season.
The team's lone conference loss came against Silverton on Oct. 17.
"We were one of the smaller football teams in the conference," Hedrick said. "Our kids played incredibly hard. … The hard thing about this business is everyone is trying to win the last game and only six teams across the state accomplish that. Everybody else is disappointed. We didn't win our last game, but the kids accomplished a lot and they did it with great sportsmanship and great support from the community."
For Riddell, who saw his senior season come to a close sooner than he had hoped, he's looking for this season to be a launching pad to bigger and better things for the Panthers.
"I hope the young players got some confidence installed in themselves," Riddell said. "They're young so the confidence isn't always there in high stress situations. I hope they learned how to cope with stressful situations and how to work hard like everyone did this year. These boys are going to be ready to go next year and they're going to be an amazing group of guys to watch."