Wednesday, November 26, 2014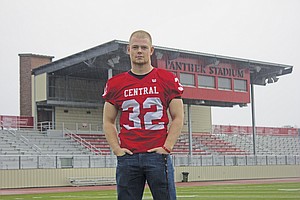 INDEPENDENCE — As a sixth-grader, Wes Riddell roamed the sidelines at Central High.
As the Panthers' ball boy, Riddell got his first glimpse of high school football.
"I always loved playing football," Riddell said. "I got to see the work ethic it took, see how they did things in high school."
As a senior, Riddell played running back, linebacker and was the punter for the Panthers.
On offense, he terrorized opposing defenses, rushing for 2,419 yards and 31 touchdowns in 10 games. He added 283 receiving yards and three touchdowns.
On defense, he recorded 37 tackles.
"Wes is a great leader with unquestionable character," Central coach Shane Hedrick said.
Riddell's ability to take over a game made him the clear choice for the Itemizer-Observer's 2014 Football Player of the Year.
But for the player who focused on dominating on the gridiron, football is just a small part of his world.
Taking the stage
Each week, moments before stepping on stage, Riddell does his best to calm his nerves.
But he isn't getting ready to hit the field. Riddell plays guitar and sings for his church. And in some ways, that can be more difficult than anything he does on the gridiron.
"When you're in the pads and helmet, they can't see you and you can't see them," Riddell said. "When everyone is looking at you, it's a little nerve-wracking. But I'm getting better at it."
Music is a big part of the Riddell family, where hardly a day goes by without songs being sung throughout their home.
"All three of my sisters are pretty musical and my parents are, too," Riddell said. "My mom hears a song and she sings it all day. It's cool growing up with a musical family, but it also sucks at the same time. They drag you into singing stuff you wouldn't necessarily volunteer for, but they volunteer for you."
While football and music may seem different, they both provide a thrill.
"In football, pregame you're mostly focused on getting ready," Riddell said. "When it comes to music, it's kind of a free feeling. It's just getting up there and letting it go."
In addition to music, Riddell is a member of FFA and sang in the CHS choir through his junior year. Coupled with playing baseball in the spring, Riddell rarely has a down moment to himself.
And that's just the way he wants it.
"I just like to stay busy," Riddell said. "I'm an ambitious kid. I like to go out and do stuff."
While Riddell does his best to ensure his schedule is always packed, football is where his passion lays. And his senior year proved to be a difference-maker for his future.
Looking ahead
Ever since his days as a ball boy, Riddell has dreamt of playing football beyond high school. But before 2014, that seemed like more of a pipe dream than a reality in his mind.
"I was a pretty realistic kid growing up," Riddell said. "I thought these guys (playing college football) are great and I don't know if I could ever match up to them."
Even after his junior year, doubts remained. Entering his senior season, Riddell wasn't sure how he'd stack up in a new league. He responded by rushing for at least 108 yards in each game and gaining more than 200 yards on the ground in seven of 10 contests. But Riddell was barely aware of his accomplishments during the season.
"I guess I knew about putting up statistics, but it never really clicked for me," Riddell said. "I didn't really think about it that much. But it wasn't one person going out. It was everyone working toward a common goal, and we all worked hard for each other."
Riddell said he plans to play college football, and is beginning the process of narrowing down his choices.
But for the senior who has dreamt about this moment for nearly seven years, the fact that his football career may continue is a moment like no other.
"It feels great," Riddell said. "I always had the thought of playing college ball. And now, I'm feeling pretty confident how everything is rolling out."