Wednesday, October 1, 2014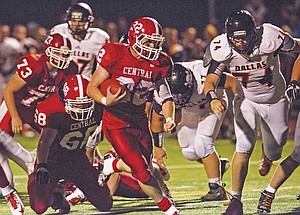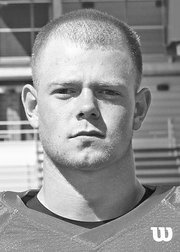 INDEPENDENCE — Wes Riddell burst through the 1,000-yard barrier and the Dallas defense Friday night at Panther Stadium.
In 23 carries the Central High senior rushed for 342 yards and six touchdowns, thrusting the Panthers into a share of first place in the Mid-Willamette Conference with a 42-29 victory.
"I give it all back to my blockers," Riddell said. "They had a heckuva game. Every week they just bust holes up and without them I wouldn't have anything."
The Dragons (1-3 overall, 1-1 Mid-Willamette Conference) and Central (3-1, 2-0) met as conference foes. Riddell and the Panthers' front ensured they would regain the pride of Polk County after they had taken a 27-0 nonleague loss to Dallas in 2013.
"This meant a lot to us, first of all for conference and second just to keep the momentum going," Central coach Shane Hedrick said. "I don't know about the revenge factor — that was a tough loss (in 2013), they coached it really well and they played well — it was really one of those misfortunes that we had. I don't know that our kids really dwelled much on last year. This is a new year for them."
A new year in a new conference against bigger schools. Central and Dallas have history — including last season's beat down — but it's just that: history. For most of the players, the only history that matters is the last two years and, possibly, what comes in the postseason.
"They came out and played better than us," said Dallas receiver Chase Mauk, who had five catches for 76 yards and two touchdowns. "They played well. Maybe we got a little overconfident. I think everyone played their hearts out, but we just didn't execute when we needed to.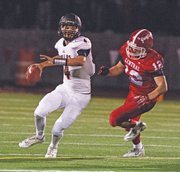 "Hopefully we'll catch them again in the playoffs. I hope they have a good rest of the season and we do too and we'll meet them again."
Dallas played without senior running back/linebacker Spencer McCarron, who was injured against Woodburn, but the Dragons didn't back down. They led 7-6 in the first quarter and never allowed Central to pull away, despite Riddell's running and the passing of Doug Clem.
"It's disappointing, but on the other hand, take nothing away from Central," Dallas coach Tracy Jackson said. "Riddell ran well. He's very, very good.
"We have some improvements to make, and we will."
How the conference shakes out remains to be seen. Dallas goes to South Albany this Friday.
"Honestly, everyone is fighting to see who the No. 2 team is going to be in the league," Jackson said. "We need to take a big step forward. We need to take those opportunities and get better."
Central plays at Crescent Valley of Corvallis, also on Friday. It's all new territory for the Panthers, while Dallas and South Albany boast the same records against the same conference opponents.
"They're all teams that we haven't played in the past," Hedrick said. "(Crescent Valley) has had some good success the last couple of years; Scott Sanders does a nice job there."
Friday night in Polk County, though, belonged to the Panthers and Riddell.
"It's just a game of pride. Back in the day, there were some alumni who knew what was going on. Now that (Dallas is) back in our league, we get that sense of pride in our community," Riddell said. "We have to keep coming out with the same intensity like we have been. We have to forget about this game and move on to next week."