Wednesday, October 1, 2014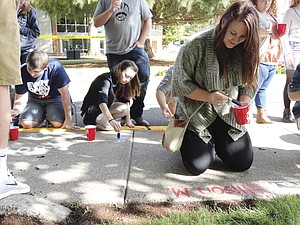 CCC sets Monday meeting in Dallas
DALLAS — The Chemeketa Community College Board of Education is in the first phase of searching for a new president and wants the community's feedback on what it should be looking for.
Dallas residents will have a chance to share their opinions Monday at a community forum scheduled at 5:30 p.m. at Chemeketa's Dallas Center, 1340 SE Holman Ave.
At the forum, community members can provide feedback on the skills and qualities the board should be looking for in the college's next leader.
More information and a five-question online survey regarding the president search also is available at www.chemeketa.edu until Oct. 10.
Local students receive essay prizes
POLK COUNTY — Polk County Women for Agriculture recently announced the winners of its fourth annual Constitutional Essay Contest as part of its Sept. 17th Constitutional Day celebration.
The group sponsors an essay contest annually with a different question on the Constitution each year. The 2014 assignment for Polk County high school students was to write the Declaration of Independence in their own words.
Two first-place winners were chosen this year: Sascha Hull and Naomi Morgan, both home-schooled students from Dallas, will each receive a $125 award. Second place went to Jeremiah Morgan of Dallas. Third place was awarded to Saarah Johnson of Monmouth.
In addition to cash prizes, the winners will receive two books on the Constitution and the Federalist Papers written by Mary E. Webster. These books, plus pocket Constitutions, were donated by the Western Institute for Nature, Resources, Education and Policy (WINREP).
For more information on Polk County Women for Agriculture, a chapter of Oregon Women for Agriculture: www.owaonline.org.
Contest is open to local students
POLK COUNTY — Dallas Veterans of Foreign Wars Post No. 3203 and its ladies auxiliary is accepting submissions for the "Voice of Democracy Scholarship" and "Patriot's Pen" essay contests.
The theme of the 2014-15 "Voice of Democracy" contest is "Why Veterans are Important to Our Nation's History and Future." The contest is open to all Polk County high school students, including home-schooled students. The high school age group must submit written and audio versions of their three- to five-minute essay.
The Patriot's Pen contest is open to middle school students with the theme "Why I Appreciate America's Veterans." Students must submit a 300- to 400-word essay on the topic.
Submissions are due Nov. 1. Entry forms are available at www.vfw.org/community/programs.
For more information: Dennis Pratt, youth programs chairman, 503-812-6355; email to shelden9@gmail.com.
Local students make OSU honor roll
CORVALLIS — Four local residents qualified for inclusion on the 2014 summer term scholastic honor roll at Oregon State University. Students must maintain a grade-point average of 3.5 or better and carry at least 12 graded hours of coursework to qualify.
Local students recognized include:

From Dallas — 3.5 or better: Natalie N. Eriksen, transfer, psychology; and Michael Polander, junior, pre-mechanical engineering. From Independence — 3.5 or better: Samuel A. Sprague, senior, economics. From Monmouth — 3.5 or better: Jack D. Rout, junior, psychology.