Wednesday, October 8, 2014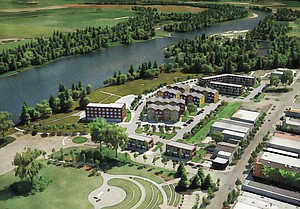 INDEPENDENCE — The future for the former Valley River Concrete site along the Willamette River in Independence is a little clearer.
Independence City Manager David Clyne announced Monday that the city has entered into a deal with Valley Concrete to buy the 20-acre parcel of riverfront land for $800,000.
Closing on the purchase is scheduled on or before Dec. 31.
When Valley Concrete announced its desire to vacate the property, city officials worked with the business owners to develop a possible economic development plan that would include some kind of lodging, residential and commercial uses, Clyne said.
With the sale details finalized, Clyne said the city's first priority is lodging.
"We've done a lot of analysis with this site," he said. "We're very comfortable that it will support a 50- to 60-room facility, boutique-style lodging."
Clyne said the city is in talks with potential developers, but said it has not been looking for brand lodging.
"We'd rather see something that has the unique look and feel that is complimentary to the look and feel of the downtown historic district," he said.
With the city owning the land, it will allow more control over development and timelines, Clyne said.
"For us, (the project) is a high priority," he said. "For someone else, it may not be."
Clyne said he doesn't anticipate another situation like that found at Independence Station, which remains untouched and half complete. The city owned that property before it was sold to developer Steven Ribeiro.
Instead, he pointed to the multiple success stories where the city has sold or leased property to developers, such as Riverplace Apartment Homes and the Independence Cinema.
"You swing and hit, swing and hit, and you swing and miss every so often," Clyne said. "There's a long stream of successes marred by the occasional failure. Independence Station may someday be finished and people will say, 'Wow.' That story's not over."
The city will pay for the Valley Concrete site with cash, Clyne said.
"There's sufficient cash, it may just require a little moving (money) around," he said. "Ultimately, it will be an urban renewal project."