Wednesday, October 8, 2014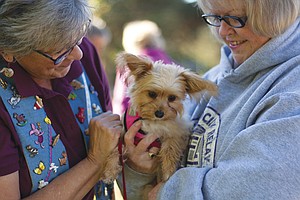 Politics is subject
of Western exhibit
An artist exhibit reception celebrating the current display at Western Oregon University's Hamersly Library is planned Wednesday (today) from 4 to 5:30 p.m. at the library along Monmouth Street on the WOU campus.
Featured work includes a political memorabilia collection of WOU alumnus Carl Fisher, as well as political cartoons drawn by WOU alumnus Rob Harriman. The exhibit will be on display through Dec. 5 and can be viewed during normal library hours.
The reception is free and the public is welcome.
For more information: 503-838-8419.
New exhibit opens
at Ash Creek gallery
A new Ash Creek Arts Center art exhibit opens Wednesday (today) at the gallery at MaMere's Bed and Breakfast, 212 Knox St. N., in Monmouth.
The exhibit, "Pro-ject," features work by James Brandon O'Shea and Andrew Myers. It encourages a new way to see and experience photography and drawing.
To accomplish this, O'Shea composed a range of images onto 35mm slides. Myers projected the images onto paper and responded directly to the images by drawing over and into the projected imagery.
An artist reception will be held Thursday from 5 to 7 p.m. Other times, the gallery is open by appointment.
For more information: 503-838-1811.
'Apple Festival' on
tap at Brunk House
The Polk County Historical Society will host its annual Apple Festival on Saturday from 10 a.m. to 3 p.m. at the Historic Brunk House.
Volunteers still gather apples from two surviving Brunk apple trees, plus new ones that have been planted at the farm, to make apple cider. That's what the group will be doing Saturday, squeezing the apples into cider and putting it into jugs that can be purchased for $5 a gallon.
Visitors can tour the historic 1861 Classic Revival home built for $844 in gold, see the Master Gardeners' vegetable garden, the rose garden, grape arbor, herb garden and eat apple desserts.
The Brunk House is located at 5705 Highway 22 near Oak Grove Road.
For more information: Jo Ann King, 503-838-6603.
Bambinos benefit
slated for Friday
Bambinos is hosting its seventh annual silent auction and gourmet dessert fundraiser Friday at 7 p.m.
The auction and gourmet dessert event will be held at Eola Hills Wine Cellars in Rickreall, 501 South Pacific Highway (99W). The $10 ticket includes desserts and non-alcoholic beverages.
The mission of Bambinos is to serve families in need throughout the Dallas area by providing basic supplies and emotional and spiritual support.
For more information: Beth, 503-508-6043.
Grange schedules
Sunday breakfast
Buell Grange will host its monthly Second Sunday Community Breakfast on Oct. 12 from 8 to 11 a.m.
Cost is $6 per person, and the menu is scheduled to include your choice of pancakes, sausage and eggs; hash browns, sausage and eggs; or French toast and sausage. Meals include juice and coffee or tea.
The event is a fundraiser. Proceeds go toward the maintenance of the Buell Grange Hall, located at 5970 Mill Creek Road, just off Highway 22 northwest of Dallas.
For more information: 503-623-8462 or 503-843-4703.
State poet laureate
to appear at WOU
Oregon Poet Laureate Peter Sears and special guest Dawn Diez Willis will read poems and discuss their work during an event Monday at Western Oregon University.
The reading and discussion take place from 4:30 to 6 p.m. in Room 107 of Hamersly Library. It is free and the public is welcome.
Sears is one of the state's most active poets, educators and literary advocates. His poems have appeared in Saturday Review, The New York Times, The Atlantic, Field, Rolling Stone and Iowa Review. He is the author of eight collections of poetry, including "Small Talk: New and Selected Poems," published in 2014.

For more information: 503-838-9494.
Multicultural fair
coming to library
Monmouth Public Library will host a special multicultural fair, "A Fair of Countries," on Oct. 15.
The program runs from 2 to 4 p.m. at the library, 168 S. Ecols St., and is free. Those who attend will have the opportunity to learn a few new words in a different language, see artifacts from different cultures and meet people from different countries.
The program is presented by local international students through the English Language & Culture Institute of Monmouth.
For more information: 503-838-1932.