Wednesday, October 8, 2014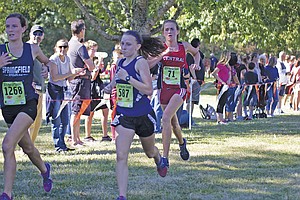 INDEPENDENCE — Central High freshman Bailie Hartford doesn't have an elaborate pre-race ritual.
When she steps to the starting line, she doesn't pump herself up or calm herself down.
Once the starting gun fires, Hartford's mind begins to race.
"During a race, all I think about is will this end soon, will I catch her," Hartford said.
Then, in the midst of her race, something clicks.
"But during a race, I reach a point where I truly appreciate running," Hartford said. "I'm so very gifted to be able to run and I hope other people don't take that chance for granted."
For her part, Hartford is making the most of her opportunity.
Seeds for success
Growing up, Hartford knew she would be a cross-country runner.
"My older brother, Christopher Aguirre, was running at the time and he told me it would change my life," Hartford said. "It has."
This fall, Hartford has emerged as one of the Panthers' top varsity runners and is following in the footsteps of the runners who have helped inspire her.
As Hartford prepared for her freshman campaign earlier this year, she wasn't quite sure she was ready for what was waiting. But, as she did in middle school, she looked to others who found success as freshmen to help guide her as she faced a new challenge.
"I remember being in the seventh grade and wishing to be as fast as Mandi (Desmarteau)," Hartford said of her new teammate. "I watched her practice and was awestruck. I got to the eighth grade and saw Abby (McBeth) explode. She blew my mind and everyone else's, too."
Hartford has Central's second fastest time this fall in the 5,000-meter (20 minutes, 0.68 seconds).
But Hartford, who said she hopes to get her time down to 19:30, knows she has a long road ahead of her to get where she wants to be.
"I had no idea I would achieve as much as I have," Hartford said. "It still blows my mind every day. But with every great achievement, there's a struggle. Running cross-country isn't just running against other teams, you're running against yourself. … You have to believe the pain you endure now is in fact going to help you in the end."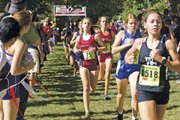 Hartford's emergence isn't a surprise to Central coach Eli Cirino. But it wasn't until recently that she began lowering her times to a new level.

"In the last few weeks, she's becoming aware that she can run with the fastest girls," Cirino said. "Before, she'd go out kind of slow and felt great picking people off. Now, she's becoming a different runner by the day because of her confidence level."
As Hartford began to see her potential, she turned to the runners she admired to help guide her.
"Bailie has always been a talented runner," McBeth said. "She's just now learning how to use that talent in her training and learning how to go 100 percent and to continue pushing yourself."
Big dreams
Hartford's ability to continue improving may play a key role in Central's ability to qualify for the state cross-country meet as a team.
"Realistically, right now our girls would be fourth or fifth (in league)," Cirino said. "But we're looking to leapfrog into that third spot and go to state. Our top three girls are pretty well established. Now, we have to close that gap with the rest of our girls. It will take a tremendous effort, but they're hungry for it."
While Hartford is experiencing tremendous success as a freshman, Cirino said she'll face significant challenges in the years to come. He also hopes that the girls will continue to push each other through the years.
"It can be harder as they get older to continue shaving off time and to continue running faster and faster," Cirino said. "Bailie is a very naturally gifted runner. And I think seeing others, like Abby and Mandi, more and more girls are coming in and expecting to be successful right away. They've seen their peers do that, and Bailie can help others follow their lead."

Hartford knows the challenges that await her individually and as a team are great. But that's precisely why, when it comes to running, she feels right at home.
"I am personally drawn to running because I like challenges," Hartford said. "No one can run what we ran, and I'm proud of that. Some people come out for a week, practice, and quit. They don't have the mindset we do. They look at life as an endless road. But we look for the finish line."