Wednesday, October 8, 2014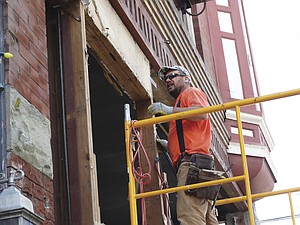 INDEPENDENCE — The storefront at the Cooper Block Building, on Main and C streets in Independence, has blown wide open now as restoration continues on the old building.
"Finally the community can drive by and see some real action now that we have begun the storefront renovations," said developer Bodie Bemrose.
But it's the unseen work that Bemrose said will ensure that the 1895 building will stand for many decades to come.
"First, we had to demo all of the 1980s remodel inside, and the extensive dry rot — over 5,000 square feet of dry rot," he said. "After the demo of all that, we replaced all the rotten timbers."
Many of the floor joists, made from old growth Douglas fir, had rotted out and needed to be replaced before work could commence on the building, Bemrose said.
The dry rot was a factor of the building being closed up for years and unable to breathe.
"We completed all the interior and exterior brick and mortar restoration," Bemrose said.
Next came the roof, where more dry rot was discovered and removed.
"The new roof was installed during the last run of hot weather we had," Bemrose said. "All of this had to be completed before we began the storefront renovations."
Once the storefront on Main Street is complete, two storefronts will be re-created on C Street.
The next steps will include framing the second story for four apartments and three executive office suites. That work is well-suited for the wet fall weather, Bemrose said.
Downstairs will have room for three retail spaces, one of which is an old restaurant space that is being preserved for that purpose, he added.
He said many have shown interest in the spaces, but he has not set a new timeline for completion.
The work was more time-consuming than Bemrose had expected. In an interview with the Itemizer-Observer in May, he had hoped to have tenants in the building by August.
"We did have to make sure the building and our renovation plan would pass the engineers' study and calculations," Bemrose said. "That took some extra time."
The storefronts are very large and require skill and craftsmanship to re-create, he said.
Throughout the work, he said he has yet to encounter ghosts, but did find a cat and some kittens, which have been rescued and found new homes.