Wednesday, October 22, 2014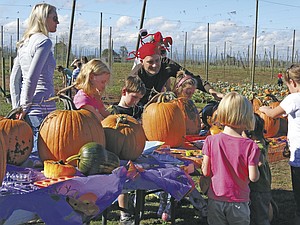 Memory screening
clinic set Thursday
The Alzheimer's Network will host a memory screening clinic Thursday from 9 a.m. to noon at the Monmouth Senior Center, 180 S. Warren St.
If you are worried about memory problems, have been concerned about unusual forgetfulness, or are having more trouble than normal concentrating or remembering names or conversations, a memory screening is recommended.
Each screening is private and conducted by a trained screener. Screenings take about 15 minutes. Preregistration is required.
To preregister or for more information: Monmouth Senior Center, 503-838-5678; Alzheimer's Network, 503-364-8100.
Dallas Lions Club
benefit scheduled
Dallas Lions Club is hosting a pizza fundraiser Thursday from 4 to 9 p.m. at Abby's Legendary Pizza, 174 W. Ellendale Ave. in Dallas.
The club will receive 20 percent of your purchase if you present a flier during the event. Download the flier at http://e-clubhouse.org-/sites/dallasor/calendar.php.
All of the proceeds from this event supports the local community. Dallas Lions Club activities include mobile health screenings (for vision, hearing, diabetes, blood pressure and glaucoma), vision screening for school children, financial support for eyeglasses and hearing aids, providing college scholarships, "Bikes for Books," "Flags for First-Graders," community holiday projects and much more.
For more information or to receive a printed flier: 503-302-3848.
MBA fundraiser
set at Burgerville
The Monmouth Business Association is looking for volunteers to help serve lunch during a fundraiser at Burgerville on Saturday from 11 a.m. to 2 p.m.
The event benefits MBA scholarships for students interested in pursuing business degrees.
Volunteers are needed to greet customers, help serve and clear tables, and let people know about MBA and the scholarship.
For more information or to volunteer: Mark Fancey, 503-751-0147.
Storybook pumpkin
entries due soon
There's still time to enter Independence Public Library's Storybook Pumpkin Contest. Entries are due by Saturday at 1 p.m.
Pumpkins must be decorated as a literary character from a book or favorite story. No carving is allowed. Use paint, markers and other materials to decorate your pumpkin character.
The contest is open to all ages. Judging takes place Saturday at 2 p.m. Entries can be dropped off during regular library hours. Pumpkins need to be picked up by Tuesday.
For more information: 503-838-1811.
MICC Spooktacular
Bingo is Saturday
The Monmouth-Independence Chamber of Commerce will host its final bingo event Saturday from 1 to 5 p.m. at the Historic Gentle House, 855 N. Monmouth Ave., Monmouth.
Bingo cards are $1 each, or buy 12 for $10. The family friendly event with prizes will offer festive activities for all ages, including bobbing for apples, face painting, pumpkin decorating and a photo booth.
Prizes for the best costumes will be awarded in the following categories: Most original, funniest, people's choice and most likely to scare little kids out of their candy.
Food and beverages will be available for purchase, including a no-host bar.
For more information: www.micc-or.org.
Aquatic center has
youth event slated
The Dallas Aquatic Center, 1005 SE LaCreole Drive, will host "The Pirates of Rickreall Creek" swim and slide obstacle course and carnival on Saturday from 6:30 to 9 p.m.
A "G" version for younger children runs from 6:30 to 7 p.m., and the "PG" version begins afterward, ending at 9 p.m. Admission is $5 per child.
In addition to the obstacle course, the Blue Dolphin Swim Team will host a carnival at the center. Carnival tickets are 50 cents each.
If the kids get hungry navigating the course, the center will also feature the Bayou Café, with Halloween-themed food and wait staff serving in costume.
For more information: 503-623-9715.
Chocolate fair set
at Spirit Mountain
Chocolate lovers will want to check out "Decadence — A Chocolate Fair" at the Spirit Mountain Casino Event Center on Sunday from 11 a.m. to 5 p.m.
The event, which has free admission and is open to the public, will provide an opportunity to sample an assortment of chocolate desserts from northwest chocolatiers, sample wine and beer that pairs well with chocolate from local wineries and brewers, and enjoy live entertainment.
The casino is located at 27100 SW Salmon River Highway (Highway 18) in Grand Ronde.
For more information: 503-879-2350.
River Gallery plans
16th birthday event
In celebration of its 16 years, the River Gallery will host a Sweet 16th birthday party Sunday from 2 to 5 p.m.
Cake and ice cream will be served.
The gallery is at 184 S. Main St. in Independence.
For more information: 503-838-6171.
New area orchestra
seeking members
The Willamette Valley New Horizons Orchestra, an orchestra for players of all levels, beginning through intermediate, is now organizing and seeking members.
The group meets for practice each Monday from 6:30 to 8:30 p.m. in the Band Room at Central High School, 1530 Monmouth St., Independence.
For more information: Paul, 503-838-4884.
Fundraiser for local
family set Tuesday
A fundraiser to benefit the family of 8-year-old Daniel Indra will be held Tuesday from 5 to 8 p.m. at Burgerville, 605 E. Main St., Monmouth.
During that time, 10 percent of all sale proceeds will go toward Daniel's family to help with expenses following Daniel's death on Sept. 21 from an accidental fall from a barn.
For more information: Penny Linwood, 503-991-9335.
Hospital volunteers
planning book fair
West Valley Hospital Volunteer Services is hosting a book fair fundraiser on Oct. 29 from 9 a.m. to 3 p.m.
The sale, which takes place at West Valley Hospital, 525 SE Washington St., Dallas, will include books and gifts for all ages.
Proceeds benefit the WVH Volunteer Services Scholarship Fund for Polk County high school graduates.
For more information: 503-623-7323.