Wednesday, October 22, 2014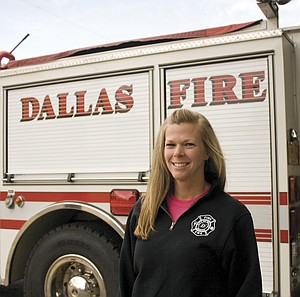 DALLAS — April Welsh didn't have to go far to start her new job with the Dallas Fire Department.
A former Dallas police detective, Welsh simply had to cross Jefferson Street to begin her new career as the department's community service officer.
Welsh, in her new job, is in charge of volunteer recruitment and retention and community relations. Her first day on the job was Sept. 24, the day after her last shift with Dallas PD.
She soon joined the firefighter training academy and knew immediately she had made the right decision in the switch.
"There's a lot to learn. I'm so excited to learn it," she said. "When I started the first part of the firefighter academy, at the end of my last day that I was there, my face hurt — my cheeks hurt — from smiling so much. It's going to be a blast."
Welsh said she had been looking to make a change in her career after serving with Dallas PD since 1999, five years as a detective, when the fire community service officer job opened.
"I remember when I first started (with the police department), pretty much everybody in town was a volunteer for the fire department," she said. "It was pretty awesome, so to get an opportunity to be a part of that, I just felt super humbled."
Welsh's transition has been smooth, given she already knew many of the people who would become her new co-workers. But she said there are differences between the jobs.

"Even though it's still emergency services, it's kind of a little bit like learning a new language," she said. "But it's been a really, really positive and just a great overall experience."
Fire Chief Fred Hertel said Welsh is adapting well to her "new language."
"She's already brought some (volunteer) applications in," he said. "It's really nice to have someone who is invested in the community right off the bat. She can hit the ground running."
Her responsibilities include building the volunteer base, a critical role as all firefighters in Dallas are volunteers and more are needed. She also coordinates public outreach through events, social media and emergency information services.
Hertel said Welsh's recruiting alone is worth "hundreds of thousands of dollars" to the department. It would cost that much to pay firefighters, he said.
Welsh said police work will always be her "first love," but she found that working in fire department is rewarding in a different way.
"Everybody that I've encountered both with the police and the fire service and EMS (Emergency Medical Services), they're very much about our community and making our community better and livable and safe," Welsh said. "I think that is the awesome part is that everybody can come together with the same goal, to take care of our community."