Wednesday, October 22, 2014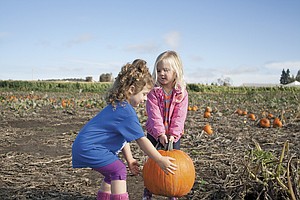 MONMOUTH — Students in Kendra Sambuceto's Grace Christian Preschool and Kindergarten class bounded off the hayride trailer and out into the pumpkin patch at Airlie Hills Farm Thursday morning.
An orange sea of pumpkins awaited the excited 3-year-olds; so many choices, but only one can go home with each youngster.
They must choose carefully.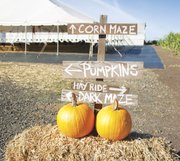 Some of the students select theirs quickly, while others take their time to pick the perfect pumpkin.
Alli Pittman decided the biggest was the best, making a beeline for a nearly perfectly round gourd that stood as tall as her knees.
She picked it up by the stem, bending her knees for good measure, walked a few steps hauling her prize pumpkin, and then, exhausted, placed it back on the ground. She repeated the process a few times before classmate Ruby McGinnis trotted over to help her friend.
The trip to Airlie Hills is a fall tradition for the Dallas school.
"It's like the highlight," Sambuceto said, taking a break from snapping photos of her smiling students proudly showing off their pumpkin choices.
Parents join on the field trip, grateful for the abundant sunshine, a dramatic change of pace from the previous few days. They walk the field helping make selections, placing the pumpkins in bags, and hauling them back to the trailer for the ride back.
After the pumpkin patch and delightfully bumpy hayride, the preschoolers play on the huge hay slide pyramid, hay maze and other fun attractions at the farm's annual harvest festival.
The pumpkins are piled on a table, awaiting the trip home.
Most students, like Alli, eventually traded their first, smaller selections for pumpkins of the giant variety, at least from their perspective.
"They try to get the ones that are bigger than them," Sambuceto said, smiling.