Wednesday, October 29, 2014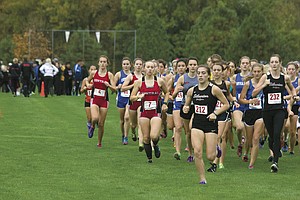 CORVALLIS — Moments after finishing in fourth place at the Mid-Willamette Conference Championships in Corvallis on Oct. 22, Central sophomore Abby McBeth had a smile on her face.
McBeth, along with freshman teammate Bailie Hartford, who took sixth, were among the seven individual qualifiers for the state meet Saturday at Lane Community College.
But McBeth, who finished in a time of 19 minutes, 38.64 seconds, wasn't just celebrating a return trip to state. She was chomping at the bit for an opportunity to erase the memory of 2013.
"I have some unfinished business," McBeth said. "I wasn't happy with my performance at state last year, so we'll see how it goes this time."

Last year, McBeth had walking pneumonia in the weeks leading up to state, leaving her less than 100 percent.
This year, she's more focused, and healthy.
"This is a lifestyle for me," McBeth said. "I'm going to have a lot of competition just from the girls from our league. But I plan on running down a couple of them and seeing what we can do with the Summit girls and pick off a few of them."
McBeth, who started with the lead group of girls, backed off from the pack, with an eye toward the state meet.
"We talked about not being concerned with trying to win this race and making (state) her fast race," Central coach Eli Cirino said.
Hartford, who finished in 19:55.8, ran much of the race between eighth and 10th before moving up to sixth in the final mile.
"The whole day I was freaking out on the inside," Hartford said. "All these 'what ifs' are going through your head and you don't know what's going to happen. … It felt so good. I felt like I accomplished something."
McBeth and Hartford led the Panthers, who finished fourth behind Corvallis, Crescent Valley and Lebanon in the team standings.
"It's disappointing from the standpoint we had the goal of trying to make it to state (as a team), but as far as individual performances, I'm not upset at all," Cirino said. "They had an awesome season and we'll build from there."
The boys team finished eighth, led by Darien Hume in 26th at 18:01.2.
"I told the guys to leave it all out there on the course," Cirino said. "We had nothing to lose and I think everyone ran well."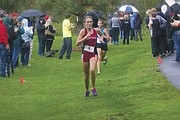 As Hartford and McBeth turn their attention to the state cross-country meet, the pair enters with different outlooks.
Hartford, already surpassing her wildest goals for her freshman year, is looking to grow.
"I'm expecting a really good race," Hartford said. "It's going to be fun. I don't expect to place high, but I'm looking forward to the experience."
For McBeth, Saturday represents a chance at a little redemption. And she's more than ready to face that challenge.
"I believe in having the right mindset," McBeth said. "I put my mindset ahead of my physical training. I'm deleting all my social media. I don't text people. In my mind, it's time to run."