Wednesday, October 29, 2014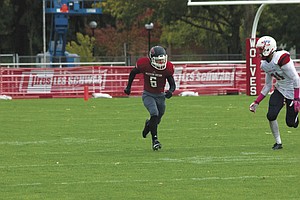 MONMOUTH — The big play.
The moment that defines a game and can decide whether a team wins or loses.
Western Oregon redshirt freshman Paul Revis lives for the big moments.
But the Wolves' newest offensive weapon isn't afraid to do the small things to help Western Oregon in any way he can.
Revis had his share of both on Saturday against Simon Fraser.
Revis had four receptions for 129 yards, including two fourth-quarter touchdowns that erased a 16-14 deficit and helped the Wolves earn a 27-16 conference football win on Saturday.
"I just saw their safety kind of slip and I just went for it," Revis said of his second touchdown. "No one was there and so it worked out pretty well for us."
For the season, Revis has 50 receptions for 902 yards and nine touchdowns.
Revis' receiving yards and touchdowns leads the Great Northwest Athletic Conference, while he ranks second in total receptions.
But Revis is doing more than catching footballs. He also returns kickoffs and punts.
In all, Revis averages 205.1 all-purpose yards per game, making him one of the Wolves' biggest weapons.
"It's all about what you can see," Revis said. "If you can see a hole, you have to react and run through it. If you have that vision and see what guys are doing before they do, you'll be successful."
That vision is helping Revis quickly become senior quarterback Ryan Bergman's favorite target, despite this being Revis' first season on the field for the Wolves (4-4 overall, 2-1 Great Northwest Athletic Conference).
"He's a dynamic player," Bergman said. "He plays every down 100 percent. I think that's what gets him these kinds of stats. He runs good routes, he's fast and he's dangerous after he catches the ball."

Revis is doing more than kick returns and pass receiving. He also holds for field goals and extra points. And while that may not seem like something to excite players, Revis said no matter how big or small the job is, he's pumped to be on the field.
"I love it," Revis said. "I stay energized the whole game. I like being a spark plug for the team. Coming into the season, I just wanted to help this team any way that I could — and I don't care how I do it."
Revis' success doesn't mean he's satisfied. He's turning to one of Western Oregon's veterans to help teach him how to take his game to a new level.
"I work with (senior wide receiver) Tyrell Williams every day," Revis said. "He knows everything there is to know, I feel like. He's a great mentor and I'm bummed that he's a senior. But I believe in myself all the time. I've had a pretty good season, but I want to keep working. I'm not done for sure. I'm getting after it."
As the Wolves travel to face league-leading Azusa Pacific on Saturday, Revis is ready to contribute in any way that he can.
And, if the situation arises, Revis will be ready to make the big play for Western Oregon, once again.

"I've loved football my whole life," Revis said. "I can't explain it. It's part of my heart and who I am. Whatever the team needs me to do, I'm willing to do it, if it helps us succeed."