Wednesday, October 29, 2014
Trolan - Weaver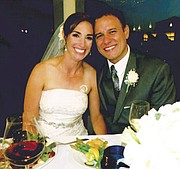 Lindy Shereen Trolan of Washington, D.C., and Michael Mason Weaver of Philadelphia were married Sept. 27 at Willamette Valley Vineyards in Turner.
Pastor J.J. Peterson officiated the ceremony.
The bride is the daughter of Mark and Mary Trolan of Dallas. The groom is the son of Connie Weaver of Lititz, Pa., and the late Fred Weaver.
Matron of honor was Denise Naguib. Bridesmaids were Liz Trolan, Jessie Latch, Amy Martin and Kim Meuller. Flower girls were Maya Trolan and Layla Trolan.
Best man was Jason Weaver. Groomsmen were Andy Trolan, Chris Miller, Samer Mina and Kevin Meuller.
Lindy is a 1993 graduate of Central High School. She graduated in 1997 from Linfield College in McMinnville with a Bachelor of Arts in anthropology and French and graduated in 2010 from the University of Exeter in England with a Master of Arts in Middle East and international studies. Lindy is a private contractor with Smithsonian's National Museum of the American Indian in Washington, D.C.
Michael is a 1994 graduate of Warwick High School in Lititz, Pa. He graduated in 1999 from Pennsylvania State University with a Bachelor of Arts in psychology and Spanish and graduated in 2006 from Drexel University in Philadelphia with a Master of Arts in education. Michael is a commander in the U.S. Coast Guard in Philadelphia.
The couple honeymooned on the Oregon Coast. They make their home in Philadelphia.