Wednesday, September 3, 2014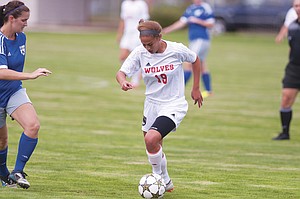 MONMOUTH — Western Oregon soccer coach Steve Ancheta knows what state the program was in when he arrived 2011.
The Wolves, coming off a three-win campaign during the previous season, didn't appear to have the makings of a contender.
"We changed the culture," Ancheta said. "There were lots of problems when I walked in. I'm not saying it was all bad. We needed to change a lot of stuff, get our players excited to play soccer at a high level again, and recruit the players that we feel can play in the (Great Northwest Athletic Conference)."
The results piled up quickly. Western Oregon doubled its win total to six in Ancheta's first season as coach. Last year, the squad finished fourth, losing in the semifinals of the GNAC tournament.
This fall, players are ready to take the next step and bring the Wolves to the top of the conference.
Leading the Wolves is senior goalie Amanda Johnson, who helped WOU rank 11th in Division II in team save percentage (.880) last season.
Junior forward Makana Pundyke, senior midfielder JoEllen DeLeon and senior defender Peyton Moon give Western Oregon a core of returning players to lead the Wolves in 2014.
Pundyke, who has 11 career goals, could be an even more dangerous forward this fall.
"I wanted to focus on my one-on ones," Pun-dyke said. "I worked on turning and using my speed to get past defenders to be able to score more goals."
For many of the returning players, they've witnessed Western Oregon's growth and evolution firsthand.
This season, the players are ready to have their best year yet and challenge for a conference title.
"It's getting better every year," Pundyke said. "We were stuck at fourth, and this year I know we can step it up. We have so much talent and potential. We're headed in a good direction."
The program's improvement during Ancheta's tenure hasn't come easy. And it took the players buying in completely for them to have a shot to succeed.
"We've improved our drive," DeLeon said. "Players are now coming into our program knowing we're a better program. They see we're trying to be different and trying to win."
Players have seen their expectations evolve from wanting to make the GNAC tournament to wanting to win it.
To do that, Moon will anchor the defense, while DeLeon and Pundyke will play major roles in the midfield and forward positions. That gives the Wolves experienced leadership in every part of the field.

As for the rest of the lineup, Ancheta said that's an open competition.
"I will be looking for people to push themselves and take the opportunities that they're given right away," Ancheta said. "We haven't finalized our lineups yet and we want to see people step up and take those starting jobs."
As the Wolves get set to begin their 2014 campaign against Humboldt State on Saturday, players are confident this season will be successful.
"We want to break out of the GNAC tournament," Pundyke said. "We are a good enough team to be one of the best, if not the best, in our conference. We have so much potential, I feel we're ready for a breakthrough."