Wednesday, September 3, 2014
INDEPENDENCE — In a matter of weeks, Independence will be invaded by playwrights, actors and other performing artists.
They all want to know: What's your story, Independence?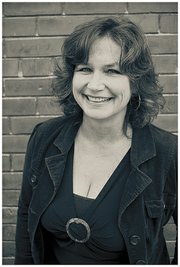 It's part of community engaged play-making, said Tinamarie Ivey, performing arts faculty member at Linn-Benton Community College.
"It's a methodology in creating original work," she said. "It gives voice to the voiceless."
She and Dan Stone, playwright and also a faculty member at LBCC, were recruited to come to Independence to write a play about the community — specifically the Latino community — by Mayor John McArdle.
McArdle attended a workshop held for LBCC faculty. The mayor works at Linn-Benton Community College as the director of development and government relations.
"He came up to Dan (Stone) and I and said this is so perfect for Independence," Ivey recalled. "He said, 'I love the town so much and the people, and I think we can really all benefit from this.'"
With no money to support the project, Ivey wrote a grant application and submitted it to the Cultural Trust Board. The project was awarded $10,300.
Now the hard work begins, Ivey said.
The process is a long one, with story circles, interviews and public forums along the way. But first, Ivey must connect with a bilingual community liaison.
"It's essential that you get a community partner, an advocate with the community," she said. "My biggest challenge right now is that I connect with the Latino community in a way that will allow them to share."
Community buy-in and participation is key to success in creating a dialogue, Ivey said.
The production will take several months to create. A performance will be scheduled at Riverview Park and Amphitheater sometime next summer or fall.
Local residents will be invited to join actors onstage and tell their own story as part of the play.
"Ultimately, it's about us coming together as human beings," Ivey said. "It's about making people feel closer to their community."
The play will allow people to develop compassion for their neighbors, Ivey said.
"Watching it happen in front of you, it's easier to hear and understand and absorb, and possibly come out on the other end and be really grateful that you got to see another person's perspective on their world," she said. "They're in the same community you live in, and you may not even realize you walk down the street with them. And that's what they live every day."
For more information: www.sanctuarystage.com.