Wednesday, September 10, 2014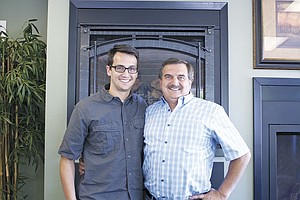 DALLAS — Joe Flande, the owner of Home Comfort Heating and Air Conditioning in Dallas, remembers driving to a customer's home in Independence one Christmas Day years ago.
The customer was an elderly lady and her furnace was broken. Flande said she had no family visiting and no plans for the holiday.
After fixing her furnace — for free — Flande spent an hour visiting with her before returning to his own family.
"I gave her a great big Christmas hug and a kiss on the cheek," Flande recalled.
It's encounters like that that make Flande love going to work in the morning, a trait he and his wife and partner, Vicki Flande, have passed on to a second generation.
"You build that bond with people, especially when you spend time in their homes," said Ben Flande, Joe's son, who is now a service technician with the company.
The Flande family is proud of the tradition of customer service the company has built, now spanning six decades as the business celebrates its 60th year serving the Polk County area.
"It's pretty cool, actually," Joe said last week, reflecting on this week's anniversary. "I think it instills a little faith in people that we are here for the long haul."
Joe and Vicki bought the business in 1996 after Joe spent seven years as a Home Comfort service technician.
"I loved the trade," Joe said. "I always wanted to own my own business and I love doing something different each day. I get to meet different people each day."
The couple also found a place to call home when they bought the business, moving from Salem to Dallas during the transition.
"My wife and I wouldn't want to live anywhere else," Joe said.
Ben, who is line to take over the business someday, feels the same way about the community and the job.
"I love dealing with people. That is my favorite part of it," Ben said. "I love working with my hands … when something fits, it feels right."
So far, 2014 has been a good year for Home Comfort, with remodel and expansion taking place at its office on South Main Street. New services — including duct cleaning — and employees are being added this year, too.
"With the economy turning around, things are turning around for us, too," Ben said.
Joe added he credits the strong support of the community with allowing the business to thrive and expand, and hopes to be able to serve the Dallas area for more decades to come.
"I want Ben to have the business 50 years from now," Joe said.
A Celebration
What: Home Comfort Heating & Air Conditioning's 60th Anniversary.
When: Friday, 3 to 7 p.m.
Where: Polk County Courthouse lawn on Main Street in downtown Dallas.
Of note: The event will feature live music, hamburgers and hot dogs.
For more information: 503-623-2341; www.homecomfortinc.com.