Wednesday, September 17, 2014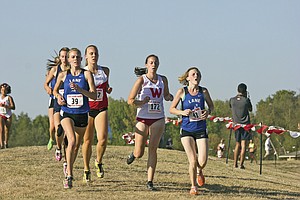 MONMOUTH — When Western Oregon senior Nicole Anderson signed up for cross-country during her sophomore year in high school, her expectations weren't exactly high.
Anderson didn't even realize what cross-country training would entail.
"I had to do a 4-mile run one day, and I told the coach I've never done more than like a lap on the track before," Anderson said. "It was really hard at the beginning."
But she was hooked, emerging as her high school's No. 2 runner.
"My former teammate from high school and I just ran really hard," Anderson said. "We just said 'let's go try and beat people and have a great time doing it,' so that's what we did."
Anderson's outlook is a little different after finishing 21st overall at the Ash Creek Preserve Invitational on Friday.
Anderson's time of 15 minutes, 46.4 seconds, for 4,200 meters made her the Wolves' top female finisher as WOU placed fourth out of eight teams. Friday's race served as notice that she is ready to become one of the Wolves' top runners in 2014.
"It hit me at our team dinner that this is my last year," Anderson said. "I am really excited and I want to make this (year) count."
That meant dedicating herself to training even more than in previous years during the offseason.
"Nicole put in a great summer of work and has remained healthy and focused," WOU coach Mike Johnson said. "She brings stability and leadership to the team."
Now, Anderson has her eyes set on helping Western Oregon qualify for the national cross-country championships. But she's also helping teammates learn what it takes to become successful.
"There's a mental toughness that athletes in any sport need," Anderson said. "But there's something a little dark and twisted that you need to be able to do cross-country."
Anderson's performance was one of several strong showings for the Wolves. Stephanie Stuckey placed 24th overall in 16:05.2, while Debra De Leon took 29th in 16:11.2.
The Wolves' top runner, Annie Wade, did not participate while resting for later in the season. But Johnson is hoping Friday's results are the beginning of something special.
"This is the largest women's cross-country team we have ever had," he said. "The question to be answered is whether it will be the best."
Men's Cross-Country 
Western Oregon saw a strong season debut from Zach Holloway on Friday. Holloway placed eighth overall with a time of 18:25 in the 5,900-meter run helping lead the Wolves to a third-place finish out of seven teams.
Holloway's performance featured a strong finish, something that has eluded him prior to this season.
Holloway wasn't the only WOU runner making his presence felt.
Freshman David Ribich took 16th in his first collegiate race, finishing with a time of 18:45.3.
"I was really pleased with the way David ran," Johnson said. "I thought Zach did a really nice job. The thing that Zach did well that he has not normally done, his last 600 to 700 meters was really good. He is usually good at getting out and today he really impressed people with his ability to stay on the tempo and finish well late in the race."
Sam Naffziger and Josh Hanna placed 27th and 28th in 19:15 and 19:16.7, respectively.
"It was a really fascinating day," Johnson said. "It was the typical first race of the season. I think our guys benefitted from the women's race. … I don't think there was a particular pecking order today."
Western Oregon travels to Seattle to take part in the Sundodger Invitational on Saturday.