Wednesday, September 17, 2014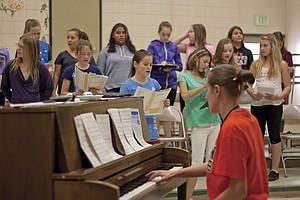 DALLAS — Remember Spanish class?
Here's a test: what do the words escuchar, escribar, hacer and hablar mean?

That was Friday's pop quiz in Amy Morrison's seventh- and eighth-grade Spanish class at LaCreole Middle School.
"I hope you studied," Morrison said as her class settled in for the day.
The answers, by the way, are: to listen, to write, to do and to speak.
It's a scene that hasn't happened at LaCreole since the 2010-11 school year. Electives — including Spanish, art and music — were cut from the schedule in a painful effort to balance the budget after a local option levy to support schools failed in May 2011.
Extra-curricular "enrichment," music and drama classes and workshops were organized to fill the gaps. But after three years without electives, teachers and administrators — and students — will tell you it just wasn't the same as having full class periods dedicated to creative, cultural and technological learning.
This fall, that has changed, as electives have been added back to the schedule. The new classes include computer design, robotics, drama, choir, band, art, Spanish and world cultures.
Principal Jamie Richardson can already see the difference the classes are making.
"Every kid I've talked to says the day goes really fast," Richardson said. "If I were to read into that, that says to me days are active and they are having fun.
"I really think it broadens their experience," Richardson added.
These classes aren't just fun, he said. They emphasize critical thinking skills and add motivation for students to want to come to school every day.
"We are very pleased to see this happen," Richardson said.
Being a "start-up" year, though, reintroducing these classes come with some challenges.
Morrison experienced that in her sixth-grade world cultures class, where Friday's session was dedicated to making origami cranes. It proved to be more complicated than expected.
"We are designing curriculum as we go," Morrison said, smiling.
Curriculum and class structures will be re-evaluated at the end of the school year as the students advance, but for now everyone is beginning in the same place.
"We are starting them off with the basics," said Aaron McEwen, the seventh- and eighth-grade art teacher. "They are just basically learning how to draw this year and working with a little bit of color."
McEwen has his students begin with objects they see every day. He has a motto written on the chalk board of his classroom: "You don't know what something looks like until you look at it." Friday, he had his students draw their own hand.
He sees the critical thinking Richardson referred to happening as his students work out how to replicate a three-dimensional object on paper.
"I enjoy watching the kids get excited when they learn they can actually draw, once they are shown how," he said.
Students in his class — some of which have never had electives at the school — are equally enthusiastic for the opportunity.
"It gives us more stuff to do than just the main classes," said Ayden Lundin, a seventh-grader. "You kind of get to express yourself."
Fellow seventh-grader Seth Asuncion, who has always been fond of drawing, said McEwen's class is the first time his hobby has been encouraged — at least during the regular class schedule.
"It's really fun," he said. "I like being able to draw in class without being yelled at by my teacher."
Teachers at the school hope to be able to build on the foundation made this year.
Choir and drama teacher Anna Jackson was once a student at LaCreole and remembers the strong arts programs Dallas School District had at that time.
"I started my fine arts experience in this very school," she said. "Clearly I understand how critical and important these classes are and how huge they were in the past. I would really like to work our way back to their former glory."
That may come in future years, but for now Richardson is just happy to have students getting used to art, music and technology classes being part of their schedule.
"It's been kind of cute to watch the kids wrap their heads around what electives are," Richardson said. "They say, 'I get to go there every day and I get a grade for that?'"