Wednesday, September 24, 2014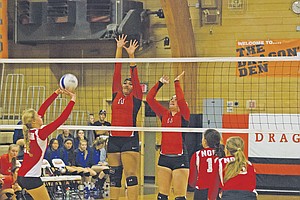 DALLAS — Dallas split a pair of league matches, defeating South Albany 25-19, 25-23, 25-22 on Sept. 16 before falling to Corvallis 26-24, 25-13, 25-17 on Thursday.
"Our first set against Corvallis was great," Dragons coach Shana Lavier said. "We just hadn't played a team with that kind of tempo yet this year."
The Dragons then placed second at a home tournament on Saturday, defeating Camas Valley and Blanchet Catholic before losing to North Eugene. Individual stats were not available, but Lavier said junior outside hitter Cambria Blair provides the team with much needed energy during matches while Amanda Dankenbring, Danielle Remington and Briana Classen help anchor the squad's lineup.

Dallas, which played at Crescent Valley Tuesday after press time, hosts Lebanon on Thursday, giving the Dragons a chance to face the Mid-Willamette Conference's top team.
"This is a big week for us," Lavier said. "On any given day, anyone can win or lose. We just have to be ready for that any given day."
CENTRAL DROPS TO 0-4: The Panthers dropped a pair of MWC matches, falling to Crescent Valley 25-13, 23-25, 25-23, 25-16 on Sept. 16 and Lebanon 25-15, 25-16, 25-9 on Thursday. Julia Kenyon had 18 kills, 16 digs, three blocks and one ace against Crescent Valley. The Panthers also competed at the Dallas High School volleyball tournament, falling in the first round of bracket play to Parkrose 25-22, 25-22. "Overall, we are very pleased with their effort," Lewis said. "(The girls) battled well." Central hosted Silverton Tuesday after press time and plays at Corvallis on Thursday. The Panthers will also compete at the Parkrose Tournament on Saturday.
PIRATES EARN PAIR OF WINS: Perrydale picked up a pair of Tri-River Conference victories, beating Western Mennonite 25-23, 25-20, 13-25, 25-20 on Sept. 16 and East Linn Christian Academy 25-13, 25-21, 25-27, 25-12 on Thursday. "It was a good week for Perrydale," Pirates coach Denise Dickey said. "The team is really working together to achieve their wins." Sarah Nelson had 12 kills against Western Mennonite while Kolbie Calonder recorded six aces. Nelson also had 11 kills against East Linn while Madison Perkins had 10. Savannah Williams had six aces. Perrydale also competed at the East Linn Christian Tournament on Saturday, defeating Amity and Faith Bible and losing to Glide in two sets. The Pirates played at Regis Tuesday after press time and will host Central Linn Thursday at 6 p.m. and Damascus Christian and Sherman on Friday, beginning at 3 p.m.
MOUNTAINEERS DROP LEAGUE MATCH: Falls City fell to 2-3 in Casco league play as the Mountaineers lost to Willamette Valley Christian 25-14, 25-20, 25-11 on Thursday. Details were not provided. Falls City traveled to face Crosshill Christian Tuesday after press time and hosts Livingstone Adventist Academy at 5:30 p.m. Wednesday.