Reindl — 70th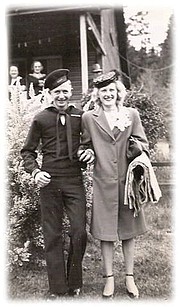 Robert and Willetta Reindl of Dallas will celebrate their 70th wedding anniversary with their children. Robert Reindl and Willetta Huntington were married April 15, 1945, in Florence at the Huntington family ranch. The Rev. Wagoner performed the ceremony. The couple was attended by Melvin Foster and Beulah Adevai.
The couple has lived in Florence, Hebo and in Dallas the past 21 years.
Robert retired in 1983 from the U.S. Forest Service. Willetta retired in 1983 as a homemaker and a secretary for Crown Zellerbach in Gardner and then a clerk for Moffett Field Air Base in Mountain View, Calif.
Robert and Willette are active members of Trinity Lutheran Church in Dallas. They enjoy playing cards, walking, reading, gardening and making walking sticks.
Their family includes Susann and Kim Ecklund of Eagle, Idaho, and Phillip Reindl of Dallas; two grandchildren; and the late Melvin Reindl.
Friends are welcome to send celebratory notes to them at the Dallas Retirement Village, 310 W. Ellendale Ave., No. 215, Dallas, OR 97338.