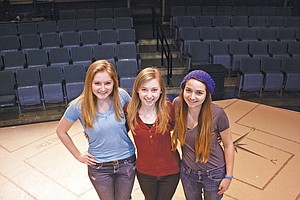 DALLAS — Thursday Dallas High School's brightest acting and technical theater performers will test their skills against the state's best at the Oregon Thespians State Festival in Salem.
This year, Dallas' contingent consists of three students: Selena Harris, Rachel Tilgner and Alicia Scherer.
Harris and Tilgner will be showcased in the duo dramatic acting division, performing a scene from the one-act play, "Miss Polly's Institute for Criminally Damaged Young Ladies Puts on a Show," by Don Zolidis. Tilgner also is competing in the stage management division for her work on DHS' production of "Our Town." Scherer will be competing in the short film division for directing her film, "This Kiss."
The partnership between Harris and Tilgner arose from DHS drama teacher Blair Cromwell's suggestion. She saw something in their work ethic that made her think they make a good match.
"They approach the work with the same level of commitment and discipline," Cromwell said. "They want to work really hard."
Cromwell's hunch was correct. The duo scored in the top 10 percent in February's regional competition in Redmond to move onto state.
"I feel like we performed really well and the thing about that was, our piece was pretty unique compared to all the other ones we saw," Harris said. "I feel like all the other ones had a shock factor, like language or shouting. Ours was sort of a quieter sort of thing. I think … we stood out from the others."
State is a highly competitive atmosphere. The pair will perform with no props in a conference room in front of their fellow competitors.
The intimidation factor notwithstanding, they believe they are ready.
"We don't want to make too many changes at this point, because we feel confident with what we came up with," Harris said last week. "It's just minor little things."
Tilgner's day will not be done after running the scene the final time with Harris.
She will then move to her "Our Town" entry, consisting of submitting her notebook from the play and a presentation of her process.
"I liked having the opportunity to explore this mysterious other side of doing productions," Tilgner said of her first venture into stage management.
Scherer's "The Kiss" was her second time behind the camera and her first time entering a competition.
"The first film was just experimental, for fun," Scherer said. "I decided that I liked it."
Scherer also had glimpsed the competition at last year's state festival.
"Last year I had the opportunity to sit in on the judging rounds for short film and I decided it was something that I could do," Scherer said.
Cromwell said she believes all are primed to perform well at state — and if they do, they have accomplished a rare feat.
"Nationally, I'm told, that we are one of the most competitive, highest-standard states," Cromwell said. "If you do well here, you know you are doing really good work."