Wednesday, April 22, 2015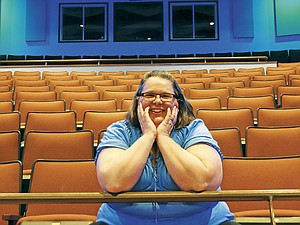 INDEPENDENCE —Wendy Boyack has a passion for live theater, and has been sharing that love with students at Central High School for nine years.
It's a passion she has carried with her since third grade.
"Our school district bused us over to the high school and we watched 'Godspell,'" Boyack recalled. "That was my first exposure to live theater, and I said, 'I want to do that.' To me, it was magic."
Boyack was honored as one of three nationwide recipients of the Honorary Thespian of the Year award. She will be presented with the award at the national convention in Muncie, Ind., this summer.
Thespian awards are generally reserved for students or teachers, Boyack said. But the honorary award recognizes the long hours she puts in volunteering for Central High's performing arts department — and the contribution she makes to teach theater skills to CHS students.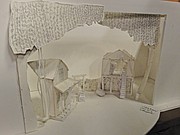 Boyack uses her technical skills behind the scenes —set and lighting design, stage makeup, painting techniques — and helps performing arts teacher Jeff Witt direct plays and musicals.
She uses students as her "crew," passing on her skills to them, training them on how to work the stage and manage productions.
Boyack's experience includes working lights at concerts in Bend to managing the student theater at Brigham Young University in Provo, Utah, where she graduated with a bachelor's in theater with an emphasis in directing.
Now Boyack spends her time volunteering not just at Central, but also at Pentacle Theater and at Children's Educational Theatre in South Salem.
"I have a passion for what theater can do for kids," she said. "I see overall that live theater is a dying art."
The blame for what Boyack sees as the death of live theater is the fault of the theater community, the media and the audience, she said.
"They (the theater community) are contributing to their own death by insisting on their own agenda rather than listening to what their public wants to see," she said.
At Oregon state theater conventions, CHS is known as the "princess school," Boyack said, because of the frequent "princess shows" the school puts on.
"We listen to what our public has to say," she said. "People come in droves to see princesses. Who cares if it's a princess show if it's paying for our program."
The audience contributes to the death of theater by having more frequent experiences with technology.
"We are losing touch with interpersonal relationships," Boyack explained. "That one-on-one experience of human beings is almost gone."
The "bigger and better" mentality of media makes it harder for live theater, Boyack said.
"It's not like you can explode a stage," she said. "Well, you can, but it's kind of hard — and expensive."
It's because of her strong beliefs in the magic of theater and the importance of human-to-human interaction that she spends much of her time teaching students.
"I dedicate everything I've got to teaching kids about the magic in live theater," she said.
Boyack has never dreamed of being the star of the show; she prefers being in the director's seat.
"I look at the set and the lights and the people and everything as my medium for creating my own personal interactive sculpture," Boyack said. "I watch a play I've directed, or watch my set in action, or watch the lights happen in action, and I have great satisfaction in seeing my sculpture live and moving."