Wednesday, April 22, 2015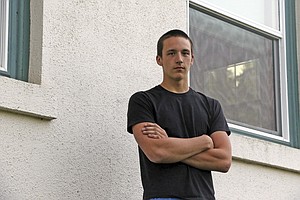 FALLS CITY — Arlin Schwanke always yearned for the chance to try out track and field.
Prior to transferring to Falls City for his senior year, Schwanke was enrolled at Kings Valley Charter School, with no way to take part in the sport.
Upon his arrival, he quickly gravitated toward field events, such as the shot put and discus.
Schwanke wanted to keep his expectations in check.
Then, the season began.
The results have been surprising to everyone, most of all to Schwanke.
Coming into the season, Schwanke's goal was simple — try as many events as he could and work his hardest at improving at them.
"I felt like I had some catching up to do," Schwanke said. "I didn't really have the practice that everyone else had. Everyone wants to make it to state, but coming into the season, I just wanted to give it my all every time out."
While he lacked the experience in track and field, he did have one thing working in his favor.
"Arlin is a natural athlete," Falls City coach Emily Kenagy said. "That allowed him to be successful so far this season, and he continues to become a better athlete."
In his first meet on March 17, Schwanke recorded a throw of 39 feet, 8 inches in the shot put, a mark that ranks first among all Class 1A District 1 competitors.
"I was pretty shocked," Schwanke said. "I'm not the strongest out of everyone I know. I just wanted to try my hardest, like I always do."
While Schwanke is finding success in throwing events, he's also giving track events a try when he has the chance. He has competed in the 100-meter run and plans to try other running events, as well.
"It's different," Schwanke said. "When I run the 100, I zone out and clear my mind. When I hear the starting gun, I take off running as fast and as hard as I can. In shot put, I try to get into the right mindset. There are a lot more variables like not crossing over the line, what you're aiming for, things like that."
While Schwanke is finding more success than he ever thought possible, he's also not losing sight of having fun.
"I do like watching the other competitors, but I don't really let it get to me if they throw it really far," Schwanke said. "Try my best, that's all I can do because there's always somebody better than you."
Schwanke may not have the experience that many of his competitors have, but he isn't letting that fact intimidate him. Instead, he's enjoying the ride.

"It's been pretty awesome," Schwanke said. "(If I wasn't doing track and field), I'd probably be trying to find a job. I'm glad I spent my senior year doing what I could. When you know everybody on the team, you don't feel like you're on your own and you feel like you have more support."