Wednesday, April 29, 2015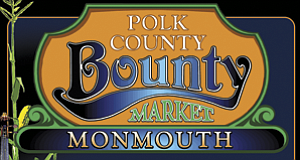 MONMOUTH — On Tuesday, Main Street Park in Monmouth will come alive with the Polk County Bounty Market.
Last year, the market performed better than expected for a first-year affair, said Chelsea Metcalfe, executive director of the Dallas Area Chamber of Commerce and Dallas Area Visitor Center, organizers of the market.
"We averaged seven vendors per week," Metcalfe said. "Our goal was five, with our highest at 11."
The Monmouth Bounty Market kicks off on Cinco de Mayo, and vendors are looking forward to the event, Metcalfe said.
Western Oregon University jazz students will provide the musical entertainment on the day, said program manager Bonnie Dreier.
The city will continue to have a booth there every week, where the public will have easy access to information ranging from public works to the senior center to asking City Manager Scott McClure questions, Dreier added.
New this year, Polk County Community and Healthy Families will have a booth for information, also.
"They do all the preventative (health) things for Polk County," Dreier said.
Because the season has been so warm, market-goers will find things not usually found until the third or even sixth week of the market, she noted.
"We have produce that we usually start in June," Dreier said. "We'll have some berries to start, and all your early spring veggies will be there."
The Monmouth Bounty Market will again accept Supplemental Nutrition Assistance Program (SNAP) cards, as well as both debit and credit cards. These cards are swiped at the market information booth in exchange for tokens which may be used at both the Monmouth and Dallas bounty markets.
"They (market tokens) can be given as gifts, too," Dreier said. "We've had people come purchase them for employee appreciation or birthdays. Instead of gift certificates, we have tokens."
Special events will be planned throughout the summer, including a return appearance by Reptile Man.
Dreier said the market is still accepting vendors and is seeking sponsors.
For more information: bonnie@bountymarket.org. For updates on market events, find the market on Facebook.