Wednesday, April 29, 2015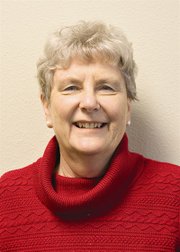 The winners of the 2014 U.S. Air Force Chaplain Corps Annual Awards were announced last week and Amanda Bennett, granddaughter of Pete and LaVerne Bennett, received the Richard C. Schneider Award, given to a chaplain assistant airman. That means she was the best assistant chaplain in the whole Air Force!
As chaplain Maj. Gen. Cecil R. Richardson stated, "All of the nominees had outstanding packages and the winners truly represent the best of the best. The winners exemplify our vision of glorifying God, serving airmen and pursuing excellence."
Amanda is the daughter of Jim and Julie Bennett of Salem and is stationed at Sheppard Air Force Base in Texas. She has been in the Air Force for six years.
—
Pete and LaVerne Bennett attended the grandparents' breakfast at Schirle Elementary School in South Salem with grandson Reese recently. LaVerne thought someone at that school had great marketing skills: the breakfast and the book fair were scheduled at the same time. They also spent Thursday through Sunday at Yachats with their square dance club, The Independence Wagon Wheelers. There were about 45 people attending and the weather was perfect.
—
Derek Burbank and Ashley Grucza announced their engagement on April 18 much to the happiness of their parents and grandparents, who were hoping for that result. Ashley works for Farm Credit Services in Redmond and Derek will be getting his master's degree from Oregon State University this June. He is applying for a job as an agricultural teacher in Central Oregon, since Ashley is there. Derek is the son of Dave and Suzanne Burbank and Ashley is the daughter of Scotty and Tina Grucza of Turner.
—
Last week the students at the Pedee campus of the Luckiamute Valley Charter School participated in two local science-related projects. They removed ivy from the stream bank at Ritner Creek Park for the Luckiamute Watershed Council, and they used fish traps to do a survey of an unnamed stream to see if fish were making it past stream obstacles to spawn. The kids were excited to do these projects, which benefited the community.
—
Both Diane Telfer and I had three quilts in the Mid-Valley Quilt Guild's quilt show in Rickreall last weekend and Diane's quilt, "Be-Attitudes Through the Year," was given the award for best machine appliqué. The Pedee Women's Club met at the show, then after checking out the quilts, went to lunch at Murphy's in Dallas. Nine members and friends and one husband attended, while Dorothy McBeth stayed at home to keep an eye on a new-born calf.