Wednesday, August 5, 2015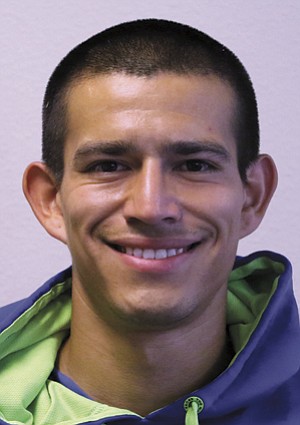 INDEPENDENCE — Carlos Esquivel always thought he'd be a high school soccer coach one day. Turns out, that day has come sooner than he thought.
Central Athletic Director Shane Hedrick announced the hiring of Esquivel, a 2009 Central High graduate, as the Panthers' boys soccer coach.

"Carlos will add to the already up-and-coming soccer program at Central High School," Hedrick said. "We are very excited to have him return home to CHS and guide our boys soccer program on and off the field of play."
For Esquivel, this opportunity is a chance to help leave an even bigger mark on the high school than when he played.
Esquivel was among the Panthers' top varsity soccer players during his high school career, but he had his eyes set on the coach's job.
"I've honestly always felt the want to coach at the high-school level," Esquivel said. "There are a lot of things I feel I can bring to the soccer field that I can incorporate. Rather than things like getting into shape, adding things like getting into the weight room, things we didn't do as much (when I was in high school) but that will make them better soccer players and better athletes."
His plan was to try and become an assistant coach and work his way toward head coach — that is until former coach Mike Lynch stepped down.
"Originally, I just wanted to see if I could get my foot in the door," Esquivel said. "When this opportunity came up, I thought I'd give it a shot."
Esquivel has volunteered as a middle school coach, but this fall will mark his first high school coaching experience.
If one thing is clear, it's that Esquivel isn't afraid of the moment.
"I'm up for the challenge," Esquivel said. "It's important for me to understand all the players. I need to make sure that every player is treated equally and that I get to know my players on and off the field."
Esquivel will get to know his players' abilities over the coming weeks, and he's not shy about his long-term goals for the Panthers.
"I'm excited to push my team to be a team that can not only compete, but be a threat to really anybody in the state," Esquivel said.
He knows the Mid-Willamette Conference is a challenging soccer league to compete in.
He's viewing his first season with modest expectations, but he's confident that he can lead the Panthers to be a perennial contender.
"I'm a new coach and I'm young," Esquivel said. "I'm aware I'm going to get a lot of criticism because of that aspect. I'm going to ask something not only from my team, but from my coaching staff and my community as well.
"I am asking for patience. This is a learning year for me and it's a process. Patience is the one thing I ask for. We'll get there."