Wednesday, August 5, 2015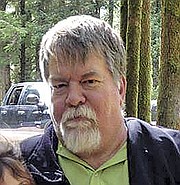 DALLAS — Wayne Kester had a mission in life: to give back.
In 2009, he received a gift and a new chance at life, the beneficiary of a kidney transplant. He wasted no time returning the favor. He volunteered for James2 Community Kitchen in Dallas and Falls City as a cook and later as a board member. He also coached youth sports in Dallas.
Friends say he exemplified the objective of James2, a Dallas-based nonprofit providing free meals to those in need in Dallas and Falls City.
"Wayne was a man with a mission, whether he stated it or not," said Kim Conolly, a friend and colleague with James2. "He served everyone lovingly, equally and faithfully. Wayne was the head, heart, and soul of James2."
On July 28, Kester died after suffering a heart attack, leaving a void in the organization and the community he served.

But Conolly said his mission will continue.
"I believe Wayne would challenge us to keep creating and working towards the beauty of no hunger in our community," she said. "Wayne's vision for James2 must live on through us, as we love and serve one another."
Gary Medsker, a volunteer and treasurer for Dallas Food Bank, shared Kester's passion for feeding the hungry. The food bank and James2 worked together on occasion to fulfill their missions, trading food items that might better fit the other organization's needs.
"We were both working to help others in the community," Medsker said.
In Kester, Medsker saw true devotion to that cause.
"He did a lot of good for the community," Medsker said. "I think that was probably his mission. He was just dedicated to being useful to others."
His work didn't stop at helping prepare nourishing meals. He also took the role of serving at James2's board president.
"That was something that wasn't easy and took a lot of time," Medsker said. "I believe he did it willingly."
Medsker said that willingness to serve will be missed.
Conolly said Kester also will be remembered for what he didn't do. He didn't let differences of any type stand in the way of helping others, she said.

"He didn't put up with man-made divisions within the community, or the barriers we put up to each other, whether economic, spiritual, physical, or emotional," she said. "He wanted everyone to work together and work it out."
Conolly said a woman recently told her when she thinks of Kester now, she pictures him cooking with Jesus — and making sure he knows how.
"This image makes me smile," Conolly said. "Jesus and Wayne: they're a team."
See obituary on page 10A.