Wednesday, December 9, 2015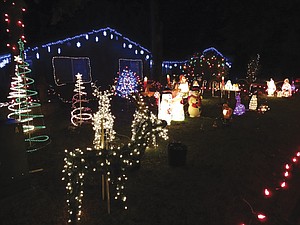 INDEPENDENCE — Independence and Monmouth residents have been busy putting up impressive light displays for the Christmas holiday. As you admire their hard work, do you notice Olaf the Snowman here, or a peacock there? What about five lighted angels in one yard?
Join others on Saturday night at 6 at the Grove Community Church in downtown Independence for a fun way to explore the Christmas lights.
"People come out and drive around the community and find things in different Christmas light displays," said Andy Johnson, pastor at the Grove. "Last year, you had to find Olaf from Frozen somewhere. You take a picture of it and tag it on Instagram."
After cruising the streets searching for specific things, everyone meets back at the church to view a slideshow of what people found, have hot chocolate and cookies, and find out who found the most items.
"We had someone last year who found everything," Johnson said.
The event was started by church member Randi Holbrook, who saw the idea on Pinterest.
"The first year we did it, we did it at my house in Salem," Holbrook said. "We came up with a list and sent people out."
She and her cousin make up the list of things to find each year. This is the third year the Grove has hosted the event.
"The first year, I kind of used a template," Holbrook said. "Last year we drove around, looked at what was there and made the list off of that."
According to the rules of the event, participants don't have to find the exact display that inspired Holbrook's clue.
"One of the things (last year) was five decorated angels in one yard, or three inflatable decorations in one yard," she said. "A lot of different people may have that, as long as you find it, it counts. It doesn't have to be the specific house we found."
Last year, one house in Independence was selling mistletoe for 50 cents. It was included on the scavenger hunt.
"People really enjoyed that," Holbrook said. "We told them they had to go find mistletoe, and they found it."
The contest is run by using Instagram, so be sure to have the app downloaded on your smartphone before arriving at the church for the contest. Holbrook said people should play with the program a little bit first, because there won't be time to go over how to use it before the scavenger hunt begins.
"Be familiar with it before you get there," she said.
Once an item is found, post it to Instagram with the hashtag #GroveHunt2015, Holbrook said.
There usually is about 25 items to find, from common to tricky. The best way to prepare for the evening and increase your odds of winning?
"If you're like me, you're out and about in the community, so just pay attention," Johnson said. "If you go to the really big displays, you're probably not going to get as many things as you think you're going to. Be sure to drive around a bit."
People will have an hour and a half to drive around and collect pictures from displays.
"I try and make it a little more challenging," Holbrook said. "We have a few surprises in store for this year."
How many can you find?
What: Christmas Light Scavenger Hunt.
When: 6 p.m. on Saturday.
Where: Starts at the Grove Community Church, 116 S. Main St., Independence.
Admission: Free.
Of note: The event uses Instagram to keep track of what people find in light displays throughout Monmouth and Independence.
Also at the Grove on Saturday, a professional photographer will be taking free Christmas portraits from 10 a.m. to 2 p.m., in partnership with Focal Point. The sessions are intended to help those who cannot afford a professional sitting otherwise.
For more information: Find The Grove Community on Facebook and RSVP to the event.