Wednesday, February 11, 2015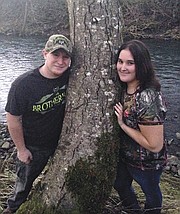 Gurule-Axford
Jessica Lea Gurule of Monmouth and Marcus Axford of Monmouth are planning a September 2016 wedding.
The bride-to-be is the daughter of Jay Gurule of Monmouth and Sheri Simpson of Gates. Her fiancé is the son of Hugh and Tonni Walbridge of Monmouth.
Jessica is a 2010 graduate of Dallas High School and a 2012 graduate of the Institute of Technology in Salem, where she received a trade school degree as a medical assistant.
Marcus attended Central High School. He is employed at Walbridge Yard Maintenance.
A backyard wedding is set for Sept. 18, 2016, at the home of a family friend in Dallas.