Wednesday, February 11, 2015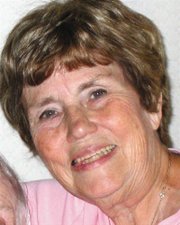 Saturday is St. Valentine's Day, which gives us all the opportunity to celebrate with special dinners, chocolates and flowers, or hugs and good wishes to those who make our world a little happier just by their presence.
MI Town is decked out in shades of red to celebrate a bright and cheerful day in the midst of the dark wintry season.
—
We all complain about the dark and rainy days of winter, but most of us just carry on and hope for better times. When you're a veteran confined to a hospital that's often far away from home, the bright and better days are few and far between, especially at this time of year.
MI Town is not close to either Roseburg or Portland, but we can brighten up the lives of those who have given so much for our country's freedom by sending valentines. It's not necessary to sign your name — you may simply say "Thank you for your service" if you wish.
Address your valentines to: Any Service Member, VA Medical Center, 3710 SW Veterans Hospital Road, Portland, OR 97239; or to Any Hospitalized Service Member, VA Medical Center, 913 NW Garden Valley Road, Roseburg, OR 97471.

—
I'd like to bestow lots of hearts and flowers upon both the Monmouth and Independence public libraries for providing the best children's programs for our even-younger generation, and as a warm and cozy place to meet with friends and colleagues. There are so many on-going activities available for everyone.
The color red often signifies danger to our local firefighters and police officers, so wouldn't it be nice if they received some kind and caring wishes as well? They are always watching out for us 24/7 and are also our friends and neighbors.
Nothing beats sitting down with a spanking-new edition of the newspaper and the opportunity to read for ourselves what is going on in our community and our world. The newspaper — whether on a daily or weekly basis — is our true connection with local events and happenings and human interest stories about people we know. Warm Valentine wishes to everyone involved with our newspapers (and to our I-O most especially) and thank you for all those hours and days working hard when the rest of us are sleeping, celebrating holidays or off on vacations.
Bright red valentine wishes to all of our other city and county workers who keep the lights on and our streets clean, and to our sanitation and utility crews who keep our communities bright and shining, too. We appreciate all the good things you are doing to make MI Town the best communities ever.