Wednesday, February 18, 2015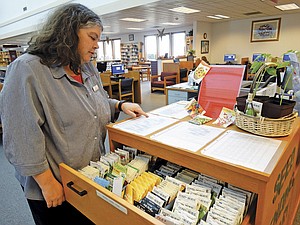 MONMOUTH — Whether you're new at gardening or a regular green thumb, there's one thing all planters need: seeds.
Monmouth Public Library's new Seed Lending Program provides a plethora of seed packets for the pleasure of gardeners young and old.
With no strings attached — no library card is needed — people may take home up to five seed packets per adult each day, said Vivian Byers, library aide.
"The object is to get people interested in growing their own food," Byers said.
Byers grew up in a depressed town on the Oregon Coast, and recalls the importance of growing her own food.
"If you didn't grow, you didn't eat a whole lot," she said. Now, she continues gardening — even though she swears she has a "black thumb" — because some foods she wants to eat are hard to find in the grocery store or else they are expensive.
Byers said people keeping regular gardens has fallen out of style, but it's making a comeback with emphasis on eating locally grown foods, free of pesticides and genetically modified organisms.
"People don't know how to grow it (food), or preserve it, or — what do I do with a rutabaga?" Byers said.
So far, the more than 1,000 seed packets in a variety of vegetables, flowers and some herbs, have been donated by various people and businesses. In the first week of the program, 213 vegetable packets were taken home, and 124 flower packets.
Byers said librarians are not Master Gardeners, but a Facebook account set up just for the seed lending program will let patrons share their successes and ask questions.
"People can post pictures of their garden, brag about having the first tomato of the year, or post questions," Byers said.
Planters could also leave reviews about favorite varieties of vegetables or tips on planting.
One request Byers has: Don't let things go to waste.
"When they do grow their garden, we hope that if they have extra produce they're not using, that they'll consider donating to neighbors or food banks," she said. "Pay it forward."
Throughout the spring and summer, the library will host a variety of gardening classes, including all about composting with worms and special workshops aimed at children.
The Seed Lending Program is open to everyone in Polk, Yamhill and Marion counties, no library card needed.
For more information: Monmouth Public Library, 503-838-1932.