Wednesday, February 18, 2015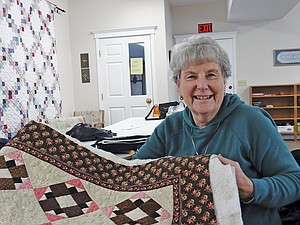 PEDEE — At its simplest, quilting is taking large pieces of fabric, cutting them into small pieces of fabric, and sewing them back into a different large piece of fabric.
"The thing about quilting is a lot of people say they don't know how to quilt, but then you find out they're super sewers," Arlene Kovash said. "Quilting is actually boneheaded sewing."
It's a social craft, often giving friends — or strangers — time around a quilt together, each doing his or her part to complete the blanket, she noted. And it used to be a practical craft, too.
When times were tough, scrap pieces of fabric — from clothing items to old bedding — were sewn together to create intricate or simple patterns and to keep warm at the same time.
For anyone interested in the art, Kovash will hold a beginning quilter's class at the Pedee Women's Club clubhouse in Pedee on Feb. 25 at 1 p.m. It is the first of a series of classes to be offered on the third Wednesday of the month at the clubhouse.
Bring a sack lunch to eat with other members of the club at noon, and then stay for the class, Kovash said.
She will demonstrate basic quilting skills, from using a rotary cutter to arranging blocks and sewing them.
"All you need to quilt is a needle and thread and fabric. Of course, by the time you get through you could put your kid through medical school with all the supplies you bought," Kovash said with a laugh.
All three will be supplied at the class.
Participants will learn the difference between a one-patch quilt and a nine-patch, Kovash said. Future quilting classes will teach how to layer and assemble the fabric with batting and how to stitch them together.
With endless patterns available, from the terribly organized to the completely chaotic, quilting allows for freedom in design.
"There are ways of sewing things together," said Pam Burkhalter, a member of the women's club. "You can sew each piece together, or you can sew a block, and then you cut that block to make other blocks."
Members of the Pedee Women's Club make 24 quilts a year — 12 go to veterans who need them, and 12 are donated to the Court Appointed Special Advocates program to help comfort children going through the court system.
"We are always looking for volunteers to do quilting," said Burkhalter, noting the club is down to three active quilters.
For more information: Arlene Kovash, 503-838-3512; email to kovasha@gmail.com.