Wednesday, February 18, 2015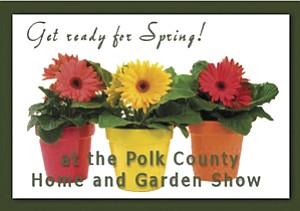 RICKREALL — With an unusually warm and sunny February, it feels like the perfect time to start working on those gardening or redecorating projects.
The eighth annual Polk Home and Garden Show, "Get Inspired, Get Started," will help get the creative juices flowing, said Deb Thomas, event organizer.
The show kicks off Friday and runs through Sunday at the Polk County Fairgrounds & Event Center.
"There will be all sorts of companies and local businesses that work with remodeling your home," she said.
Spring is the perfect time to clear away the mold and mildew in the house, or refinish the deck to get it ready for summertime relaxing. Seminars on both will be at the home and garden show, Thomas said.
"Everybody's starting to get ready to do those remodel projects," she said. "Hopefully, this will give people some good ideas on some things."
A plethora of ideas will be on display for outdoor living, from hardscape projects to model trains. Polk County Master Gardeners will have a booth staffed for most of the show, demonstrating early seed bed planting and answering questions on all things gardening, Thomas said.
Domenica Protheroe will return with a seminar on Introduction to Backyard Hens on Sunday a 2 p.m. Backyard chickens is an ever-popular pastime, Thomas said.
"She will be … getting people started with their backyard chicken experience," Thomas said.
NW G Railroad Club will return with Trains in the Garden display, she said.
"My son-in-law has a fabulous train around the fence line of his home," Thomas said. "He has a backyard train built with a working sawmill, trestles and bridges. Anything you can think of in a town, you can actually build in your backyard on a small scale."
Along with these returning demonstrations, hot tubs and spas from Clearwater Spas will be on site for the first time, Thomas said.
Rickreall Farm Supply will have tractors and lawnmowers on display for folks to get ready to move serious dirt or just keep the grass tidy.
In addition to ideas and things to spruce up a home or garden, actual homes will be on display. Jim Ash of The Vintage Cottage Home will demonstrate living in a small area with 200- to 800-square-foot homes.
"They will actually sit on a trailer," Thomas said. "They're complete homes. They're on wheels, so they can be moved."
The home can serve as anything from a guest house to a primary home, she noted.
Plenty will be available for those who do not own a home, such as jewelry or bath and body products, Thomas said.
"Everything is indoors except for the model homes," she said.
Thomas said Saturday will be a busy day with the poultry sale in the Arts and Crafts Building. Though she doesn't have chickens personally, she said the backyard chicken events are really fun and are well attended.
Check It Out
What: Eighth annual Polk Home and Garden Show.
When: Friday, 1 to 5 p.m.; Saturday, 9 a.m. to 5 p.m.; Sunday, 10 a.m. to 5 p.m.
Where: Polk County Fairgrounds & Event Center, 520 S. Pacific Highway (99W), Rickreall.
Admission: Free. Parking also is free.
Of note: Drawings will be held for $100 gift certificate to halfpriceOregon.com. A second drawing for a Traeger Junior grill also will be held.
For more information: www.polkhomeandgardenshow.com or email polkproductions@minetfiber.com.