Wednesday, February 25, 2015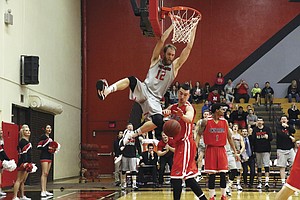 MONMOUTH — From the moment the season started, Western Oregon's men's basketball team had its eyes set on one goal.
"On our board, we had Great Northwest Athletic Conference championship written," junior guard Julian Nichols said. "It's been there since we started training camp. That was our mindset from the start."

After a 93-91 win over Simon Fraser on Saturday, the Wolves clinched their first-ever regular season title.
Jordan Wiley scored 17 points in the first half, while Nichols added 24 in the second half to finish with a game-high 34 points.
"I want to get my teammates involved first," Nichols said. "They took that away (in the second half), so I could be more aggressive and I found some open shots."
The Wolves had little trouble playing at Simon Fraser's tempo on offense.
"The key against Simon Fraser is to not let the tempo get the best of you," WOU coach Brady Bergeson said. "I thought we did a really good job in terms of our shot selection, and we made just enough stops on defense."
Western Oregon (22-4 overall, 14-2 GNAC) bounced back after a 73-50 loss to Western Washington on Thursday that saw the Wolves shoot 18 percent from the field in the second half.
Junior forward Andy Avgi missed both games because of a non-lifethreatening medical condition. He is expected to return prior to the GNAC Championship Tournament.
WOU closes out its regular season at Alaska Anchorage on Thursday and at Alaska Fairbanks on Saturday. Despite clinching a first-round bye in the GNAC tournament, the Wolves won't be taking their foot off the gas.
"You've got to be smart with rest, but we're not going to call off any dogs," Bergeson said. "Our mindset will be exactly the same."
WOMEN'S BASKETBALL WINS THRILLER: Senior Dana Goularte and sophomore Jordan Mottershaw carried the Western Oregon women's basketball team to a 71-69 win over Montana State Billings on Thursday. Goularte scored a game-high 24 points and Mottershaw added a career-high 23 points, including a game-winning running jumper with 12 seconds remaining. The Wolves (7-17 overall, 4-12 Great Northwest Athletic Conference) nearly upset 15th-ranked Seattle Pacific, falling 69-64 on Saturday. WOU trailed 52-38 with 10:31 left in the game, only to see a late rally fall short. Goularte scored 22 points in the loss. The Wolves host Central Washington Thursday at 7 p.m. and Northwest Nazarene Saturday at 5:15 p.m. Goularte was named the GNAC's co-Player of the Week for her efforts.
SOFTBALL EARNS SPLIT: Junior pitcher Alyson Boytz threw a complete game as Western Oregon's softball team defeated Oregon Tech 5-1 before falling to Concordia 9-2 on Friday. Boytz gave up six hits and no earned runs, and senior Amanda Evola recorded three hits and two RBIs during the victory. The Wolves (3-11) open Great Northwest Athletic Conference play with a pair of doubleheaders at Northwest Nazarene on March 6-7.
BASEBALL PREPS FOR LEAGUE: Western Oregon earned a split against the NAIA's No. 2-ranked team, falling 11-0 on Friday, winning 6-4 before losing 8-4 in a doubleheader on Saturday and earning a 5-0 victory on Sunday. Senior outfielder Matt Taylor recorded seven hits and six RBIs during the series to lead the Wolves (4-12 overall). Western Oregon opens Great Northwest Athletic Conference play at Saint Martin's with doubleheaders on Saturday and Sunday.