Wednesday, January 21, 2015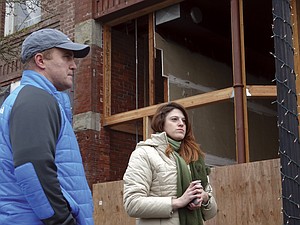 INDEPENDENCE — The Cooper Block is coming alive, with restored storefronts on both Main and C streets, and framing for offices and apartments complete upstairs.
Already the smell of rotted wood has left the building, which has been opened up. Dry rot has been removed and damaged floor joists have been replaced. New beams were constructed in the basement, raising the floor — and roof — four inches.
"That's how much sag this building had," said developer Bodie Bemrose.
The building will be as close as possible to the original 1895 structure, down to the vents below the towering windows to allow it to breathe, he said.
"This building won't rot out again," Bemrose said.
The renovated structure will house three retail places on the ground floor, including a restaurant.
The main entrance on C Street was opened back up and the staircase was rebuilt to original standards, replacing attempts by the previous owner at a giant spiral staircase.
Upstairs to the right will be three offices, able to be leased individually or as a group, catering to small business, Bemrose said.
To the left will be apartments, ranging in size from studio to one bedroom. Much of the space upstairs has been claimed, with leasing deals in the final stages, Bemrose said.
However, he is still seeking tenants for the spaces downstairs: two retail spaces and the restaurant.
"We didn't veer too much from the original layout," Bemrose said. "We're pretty close to original."
Much work has been accomplished on the old building, which needed renovating from the floor joists to the roof, but much still remains.
Painting, electrical work and some ceilings and walls need to be added to the spaces before it's move-in ready.
Building owner Florin Drutu chose color schemes for the exterior on Thursday, and will do the painting himself.
The third floor, where the tower can be accessed, will be kept by Drutu for personal use and not leased out.
Bemrose said he expects to have an open house when the building is completed before renters move in, and hasn't given a firm deadline for project completion.