Wednesday, January 28, 2015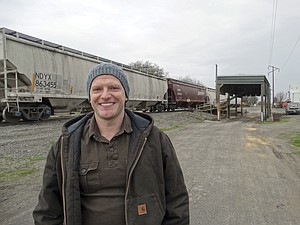 INDEPENDENCE — Independence will become a hub of importing and exporting goods via train and trucks when White's Hauling expands.
The company hopes to have the new operation on Hoffman Road up and running by June, said Cody White, co-owner.
"Our plan is to connect to the short line there with (Portland & Western Railroad) and bring in a rail siding, or track, to both ship out wheat and bring in grain," White said. "We'll import-export basically anything the local economy demands and supports: timber, lumber, steel."
From the site, located between Marquis Spa and Forest River, truckers will be able to unload onto rail cars, which will then connect with the train, and vice versa, taking products from the rail car and distributing them in smaller loads via truck.
The operation will increase truck traffic in the area, but White said truck drivers will be encouraged to take Highway 99W and Hoffman Roads.
"They want us to use existing routes trucks should take, the Hoffman-99 route right there," he said. "The overpass is significantly safer than turning onto Highway 51."
Traffic should also be diverted from Stryker Road, a concern of residents at the Independence Airpark, White noted.
"It will increase truck traffic, but when the mill (Boise Cascade) was up and running, there were quite a few more trucks through there," White said.
Portland & Western will likely not have to increase rail traffic because of the operation, said Larry Gomez, assistant vice president of industrial development.
The goal of the new operation is two-fold, he said.
By using more rail transportation, it cleans up main corridors such as Interstate 5 by removing trucks from traffic. Every rail car used replaces four semi-trucks on the roads, White said.
Secondly, the operation expands options for local farmers to distribute products.
White said wheat farmers may truck grain to Portland — through "terrible" traffic — or they can take it up the Gorge to Biggs — "which is in the middle of nowhere."
"With this, we can load it on rail and it opens up the doors for a lot of people to purchase this grain," White said.
White's Hauling was started in the early 1970s by Cody's father and grandfather, who have developed relationships with wheat farmers and buyers.
"We already have a good group of people that want to take advantage of this," White said. "We also have a lot of people who want to purchase it up in that area (Portland), so we have both sides of it. We just want to connect the two."
The project is possible in part through a ConnectOregon grant for $842,320, awarded through the Oregon Department of Transportation.