Wednesday, January 28, 2015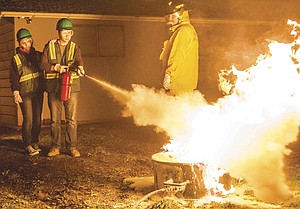 DALLAS — If a major snowstorm hit the region or the dreaded "big one" happened, would your teenager know what to do?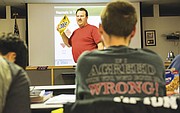 The members of a new club at Dallas High School will, as part of Polk County's Teen Community Emergency Response Team (Teen CERT).
Countywide, there are 11 members of the teen program. But with the help of club founder Maurice Dalton, that number could grow to 16, said Kimber Townsend, Polk County CERT's program coordinator.
"That would make us the third largest teen program in the state," she said.
A Dallas High sophomore, Dalton, who is already a CERT and a rare teen trainer, decided to launch the club as part of his Eagle Scout capstone project.
"I decided to try to do something unique and build a CERT team," he said.
Dalton said the club meets once a month to keep Teen CERTs updated on training exercises, make sure first aid kits are up to date at the high school, and address potential safety hazards. He's recruited four DHS students to join the CERT training session that began Jan. 19 in Dallas.
"I'm actually quite pleased with the turnout," he said of the new club.
Dalton has been involved with CERT since 2013. He said he wanted to go through the training to learn to be prepared. He said the best time to incorporate that mindset is at a young age.
"People our age are more flexible, so it's better to learn this now before it becomes inconvenient," he said.
Townsend has the same goal in mind and was more than happy to help Dalton complete his Eagle Scout project. She said in the end, those in his club will be better able to survive an emergency situation — and help others around them.
"We are going to turn out trained emergency responders," she said.
The Teen CERT program includes sessions on fire safety, medical triage, emergency medical treatment, light search and rescue, disaster psychology, and how to respond to suspected terrorism.
On Jan. 19 Townsend introduced the teens, along with adults taking the course, to what they would be learning over the course of eight weeks. That included how, at the end of training, they will be capable of helping rescue people if needed.
"That's what we want for you in this training — learning how to do a whole lot of stuff you didn't think you could do," she said.
Kyle Rothwell, 17, is home-school student from Dallas Dalton recruited to join the program. He said what he's learned so far has been "pretty interesting," but thinks learning to handle the situations more likely to happen will be the most valuable training.
"It's pretty fun to learn," he said. "You don't get to learn this stuff every day."
Townsend said in most major emergencies, police, fire and ambulance crews only expect to have half of their personnel to be available. That is why CERT-trained people ready to help with evacuations, triage, and search and rescue of any age are so critical, she said.

Dallas Fire Chief Fred Hertel said he's encouraged by the development of the CERT Dallas, both the teen and adult programs.
"I think it's great, anyone who wants to step up," he said. "It's a community (program), whether it's teenagers or elderly, or anyone in between."
Townsend said Polk's teen program is just beginning and she would like to model it after the program in Lincoln County, where it is part of the class schedule at area high schools.
"If we teach it to the children, youth, they take that with them into their adult life," she said.
Learn More About Teen CERT
• Who can join? Any teen ages 14 to 17 with parent permission. A GPA of 3.0 is required.
• How long is the training? Basic CERT training takes a total of approximately 20 to 30 hours. CPR, first aid and AED certifications take extra time.
For more information: www.polkcountycert.org; on Facebook at "Teen CERT, Polk County Oregon."