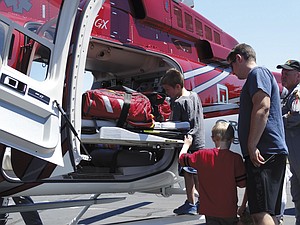 MCS hosts Chinese conversation night
The Monmouth Senior Center will host conversational Mandarin Chinese from 1 to 2 p.m. on Wednesdays.
The teacher, Mei, is from Taiwan and is an experienced language teacher. The class will focus on learning Chinese phrases as well as Chinese culture.
Cost is $20 for the four-week workshop. For more information: 503-838-5678.
Titus III to host golf tourney July 18
Titus House III, the healing place for women, will host its third annual fundraising benefit golf tournament on July 18 at Dallas Golf Course.
The event supports women in recovery living at Titus House III while they strive to find new purpose, goals and skills, and rebuild their lives once shattered by abuse and addictions.
Sponsors and teams are needed. Cost is $85 for golfers or $40 for a prime rib dinner only, catered by Washington Street Grill. Dinner is at 4 p.m. A shotgun start for golf is at 9 a.m.
For more information: P.J. Johnson, 971-388-2780.
Volunteers needed to help MSC
The Monmouth Senior Center is in need of volunteers to help set up a float for the Fourth of July grand parade, as well as run a booth for the center in Main Street Park.
Volunteers may sign up in two-hour increments to help man the booth. People also are needed to ride on the float. The parade begins at noon, with staging at 9 a.m. on Saturday. The float will be decorated on Friday for anyone who can help.
For more information: 503-838-5678.
Two grand marshals to lead parade
The grand marshals for Willamina's 2015 Old-Fashioned Fourth of July celebration goes to two ladies who have given their time and energy to the community for many years: May Shipley Snow and Jean Pearson.
Celebrations for the Fourth of July in Willamina begin on Friday at 5:30 p.m. with arm wrestling weigh in and a barbecue in Lamson Park. On Saturday, the Kiwanis Club will host breakfast from 7 to 11 a.m. at West Valley Community Campus. A car show will begin at 9 a.m. on campus. Vendors open at 9 a.m. on B Street, while pony rides will begin on Southwest D Street.
At 9:30 a.m., the logging jamboree will begin at the Walsh Trucking yard on Willamina Creek Road. Kids Zone will open at 10 a.m. at Tina Miller Park on First Street. At 2 p.m., the arm wrestling competition will begin at the gazebo.
Parade staging starts at 3 p.m. for the parade, which begins at 6 p.m. The day wraps up with fireworks at West Valley Community Campus at dusk. There will be live music and vendors.
Today last day to submit artwork
Wednesday (today) is the last day to submit artwork for the second annual Community Art Show, which takes place Friday and Saturday in Main Street Park, Monmouth.
Art will be accepted in all media this year, including three-dimensional works, from artists of all skills and age levels.
Minimum and maximum size limitations apply.
For information: Phyllis Bolman, 503-751-0145.
Free meals for seniors at center
Northwest Senior and Disability Services provides meals to seniors aged 62 and older every weekday at 11:30 a.m. at the Monmouth Senior Center.
Suggested donation is $3, but donations are not required. It is up to you how much you give.
A menu is provided. RSVP two days in advance by calling Nancy, 503-838-2084.