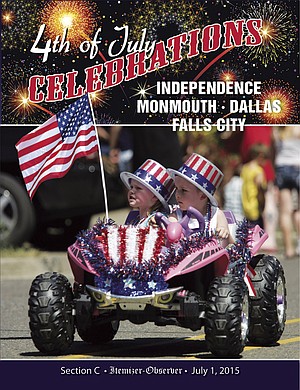 POLK COUNTY — There really is no better place to celebrate the Fourth of July than in Polk County. With two nights of fireworks displays in three different cities, a small hometown parade or a grand one, a professional barbecue competition and a watermelon-eating contest — we really know how to throw a party.
Festivities start on Thursday at Riverview Park and Amphitheater, where a carnival opens at 7 p.m. and the movie, "Into the Woods" will play at 10.
Friday is when the patriotic spirit really comes out.
Falls City's Third of July tradition started out as a way for first responders to celebrate the holiday on the eve of the big day. This year, events will be spread out at Upper Park and North Main Street.
What started out as just a fireworks display has turned into an all-day event unique to Falls City packed with small-town charm. Vendors open on North Main Street at 11 a.m. Maps to the annual city-wide garage sale are available at Frink's General Store.
A spontaneous and whimsical parade begins at about 4 p.m.
"I kind of like the parade," said Falls City Mayor Terry Ungricht.
In Independence, Western Days brings in about 6,000 people on Hometown Day, this year on July 3, said Janice Thompson, chair of the Western Days Commission.
The Mini-Marathon and grand parade both begin in Monmouth and end at Riverview Park on Saturday.
Vendors and the carnival will open at noon, and the newly improved youth activities area will host all sorts of fun things for families, including ice-cream making.
"We're trying to get more family oriented activities," Thompson said.
One thing families can do together is competitive watermelon eating. Live music by Appetite for Deception and a fireworks display wrap up Friday night in Independence.
Because of the large crowds, the park will be closed to boats, kayakers, or canoers on both July 3 and 4 during Western Day Festivities.
But don't forget to cross the S-curves to Monmouth, where the Community Art Show gives local artists a chance to flaunt their work with others.
Bounce houses, music and a beer and wine garden also grace Main Street Park on July 3 and 4.
On the big day, start off with breakfast at the Polk County Fire District No. 1 Station 90. And then? The choices really are vast.
Dallas, Monmouth and Independence all have fabulous choices of activities on Saturday, and it may be possible to see almost everything.
The Mini-Marathon, Children's Parade, Car Show and Monmouth-Independence Rotary Club's Grand Parade kick off in Monmouth at Western Oregon University and go past Main Street Park.
Where the grand parade and mini-marathon end is where the party begins again in Riverview Park. Admission is $1 for the Fourth of July. Proceeds pay for the fireworks.
Over in Dallas, barbecues have been heating up at Dallas City Park for hours already for the BBQ Throwdown competition, which begins at 11 a.m.
Fifteen teams take pride in their rubs, meats and cooking techniques to create mouthwatering selections.
Taste them for yourself with a tasting ticket, on sale for $1.
Vendors and music will accompany the barbecue competition at Dallas City Park before fireworks are ignited from Roger Jordan Community Park.
Saturday night, join more than 20,000 people on the lawns of Riverview Park to listen to country band Cloverdayle and watch the fireworks shoot out over the Willamette River, or find a comfortable chair in your backyard in Dallas and "ooo" and "ahh" over the display there.
The best thing about the Fourth of July in Polk County is there really is something for everyone, whether it's crowded carnival fun, or more mellow art and music in the park, fierce barbecue competitions or whimsical parades.