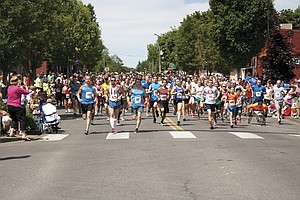 MONMOUTH/INDEPENDENCE — Has it been awhile since you've laced up your running shoes?
You wouldn't be alone, but July 4 offers a fun and relatively easy way to end your racing drought in the 43rd annual Monmouth-Independence Mini-Marathon.
At a distance of 2.6 miles, on a mostly downhill course following the July 4 Grand Parade route, the race is the perfect distance to reintroduce you to a fun run without wiping you out for the rest of the day.
"It's a fun, special event to run the route just before the big parade," said Terry Cable, the race coordinator. "As fitness has been more ingrained in our society, a little 2.6-mile race like this isn't intimidating to anyone. Families run together, and we definitely have people who make it a Fourth of July tradition."
The race is set to start at 11:30 a.m. July 4 in front of Monmouth City Hall, where entire families and individuals of all ages are expected to participate.
Because July 4 fell on a Saturday this year, Cable is anticipating a big field — and plenty of support from people already lined up to see the parade. He said that is one of the best aspects of the Mini-Marathon.
"The cheering crowds along the way and the weather is usually just perfect," Cable said.
For those who like to do things at the last minute, there's still time to register for the race. Online registration is available at www.eclecticedgeracing.com until noon on Thursday.
On-site registration will be available on Saturday from 7 to 10:30 a.m. outside Monmouth City Hall on Main Street.
The cost is $15 for adults and $5 for children 10 and younger in advance and $20 for adults and $10 for children for race-day registration.
Age categories range from 9 and younger to 80 and older, so the Mini-Marathon is an event anyone can experience.
"We've got kids as young as 8 and 9," Cable said. "It's such a relatively comfortable distance and is all downhill, so we've had runners into their 80s."
Cable ran in the inaugural Mini-Marathon and several years afterward. That ended when he became the coordinator, but Cable would like to have the event so well-organized that he could join the field one of these years.
"It's a nice little course and just within my distance," he said.