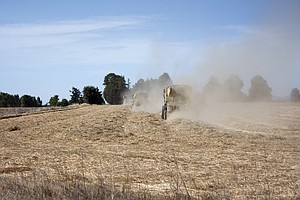 POLK COUNTY — Hot enough for you?
For most of the Willamette Valley, June 2015 was one for the record books.
Andy Bryant, a hydrologist with the National Weather Service Office in Portland, said for the Salem area June 2015 was the hottest on record by a large margin.
"It wasn't even close," he said. "We shattered that record."
Bryant said the average temperature for June was 69.3, beating out the old record set in 1926 by more than two degrees. With nine days where temperatures reached 90 degrees or hotter, June missed tying the record by one day. It did break a record for the highest low recorded in the month, 71 degrees on June 27.
Rainfall for the month, .67 inches, is well below normal, though not close to the driest. That rain came in the first days of June while the balance of the month, 28 days, was dry.
The heat wave has continued into early July, and Bryant said not to expect cooling until this weekend when temperatures look to drop into the mid to low 80s. There's no sign of rain until July 15, but Bryant warned "it's nothing we can hang our hat on."
In recent days, temperatures have mostly been in the 90s, uncharacteristic of this time of year. Bryant said that typically doesn't occur until late July or early August.
And if you think the welcome drop into the low 80s this week is the end of the heat, you better hold on to your fans.
Bryant said the long-term forecast has above average temperatures sticking around for the next several months as a strong El Nino pattern looks to be developing. The jury still is out on what that means for rainfall, he added.
The abundant sunshine has resulted in early harvests for farmers, but the lack of moisture may translate to lower yields, especially for farmers who depend on Mother Nature for irrigation.
Ron Quiring, who raises several crops on a farm in Rickreall, said this year has been "a little bit depressing."
"The yields are down on what we have harvested so far," he said.
He's harvested meadow foam, which fared well, but it bloomed early.
See HEAT, Page 5A
Continued from 1A
He just began harvesting tall fescue, the earliest in the season Quiring can remember. Other crops, peas and wheat, will be ready early, too.
Quiring said this season gives him mixed emotions.
"You're glad to get it done early, but when there's not much out there, it's kind of depressing," he said.
Area vineyards would appreciate a little rain in the next few months, too.
Bruce Sonnen, vineyard manager for Van Duzer Vineyards, said the season started well as far as rainfall was concerned, then it dried out. The storm in early June was helpful in that it mitigated a mostly dry May and June.
Sonnen said an inch of rain in July and August would be ideal, but all is not lost if that doesn't happen. He said it would be reminiscent of 2012, which was a good year for dark, flavorful reds.
He said that is the result of "stressed" vines producing smaller berries, which elevates the grape skin to juice ratio in the wine.
"Stressed vines make the best wines," he said.
Hot, dry weather still has its risks though. Warm evenings create a more agreeable environment from powdery mildew.
"Our biggest concern as growers in the valley is fire danger," Sonnen said.
If fire season is especially intense this year, the smoke in the air could "taint" the grapes to the point it can be tasted in the fruit.
Locally, it's been so far, so good on the fire front. Since the countywide burn ban was called on June 16, firefighters in Dallas have yet to respond to any major fires. Dallas Fire & EMS spokeswoman April Welsh said crews have been called to assist on calls for other agencies, but nothing that has gotten too far out of hand.
Even over July Fourth weekend, calls were pretty quiet.
"People were being really responsible with fireworks," Welsh said. "People are taking it pretty seriously."
If this is to remain a quiet fire season, however, people need to remain vigilant. Welsh cautioned people to properly dispose of cigarette butts and use caution when working outdoors and barbecuing.
"Keep a fire extinguisher or garden hose around when doing work outside, even mowing … dry grass can catch fire," Welsh said.