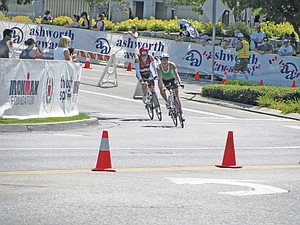 COEUR d'ALENE, Idaho — Melissa Meyer is not one to shy away from a challenge.
On June 28, she completed perhaps her greatest athletic feat, finishing the Ironman Coeur d'Alene, a 2.4-mile swim, 112-mile bike ride and 26.2-mile run, in Idaho in 14 hours, 36 minutes and 7 seconds.
Bright idea
Midway through 2014, Meyer completed a half Ironman.
"I got into triathlons because I like running a lot but I decided I needed to find something that isn't so rough on the body and I can continue to do throughout life," Meyer, a 2001 Dallas High graduate said. "I wasn't ready to give up running completely, so swimming, biking and running sounded good."
Meyer was proud of her accomplishment and hooked on the training lifestyle.

It wasn't long before people began asking her if she would attempt a full Ironman.
"For the longest time, I said no," Meyer said. "After about five months, I decided if I wanted to do (a full Ironman), now was my chance. I understood the training schedule. I had a good base. So, I signed up one day after work."
Then, the hard part began.
Training
Meyer, who now lives in Austin, Texas, spent the previous six months training for the Ironman.
Her daily schedule included waking up at 4:30 a.m. and working out before and after work.
Weekends saw five- to eight-hour long bike rides and up to 21-mile runs.
As important as her physical training was learning how to eat before, after and during her workouts.
"You have to eat to have the energy to train and learn how to eat while you're out there," Meyer said. "You can't do a race that lasts 17 hours without food training."
Yet, for all the difficulty the physical training presented, that wasn't the biggest challenge she faced.
"I think saying no to friends (was the hardest part)," Meyer said. "Saying no to a dinner because it would go too late and I needed to get home so I could train well the next day. Saying no was hard."
Half a year later, and race day arrived. This time, there was one more obstacle in her way — the heat, which reached 106 degrees and 140 degrees on the pavement, Meyer said.
Facing the Struggle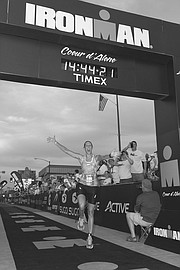 Meyer's swim went smoothly as she transitioned onto her bike.
"First 70 miles, I'm doing great," Meyer said.
She entered the most difficult stretch of the bike ride located between miles 70 and 90. With little fan support and the hilliest stretch of the entire ride, Meyer's confidence started to fade.
"The hills are never-ending at this point," Meyer said. "People are literally dropping like flies on the bike. Some are convulsing. Others can't make a three word sentence and are being pulled off the course. Ambulances are going non-stop. I'm not going to lie, I was a little scared at this point."
Meyer arrived at a medical tent at mile 85 only to find the tent had run out of water. After receiving some Gatorade and spending a few moments in the shade under the tent, Meyer had no choice but to push on to the next station.
"I began praying like crazy that the next station had water," Meyer said.

Luckily, the next station did have water. And, it wasn't long before Meyer took off for the final part of her journey — the run.
She's So There
When Meyer began her 26.2-mile run, one thought kept her pushing — she was going to be an Ironman.
But, 24 to 25 miles in, and Meyer was struggling.

It was then she heard a young girl shout, "Girl, you're so there!"
In that moment, something switched on for Meyer.
"Everything came flooding over me and I started," Meyer said. "… That was my tipping point. I couldn't believe that after six months of this, I was so there. I stopped crying and got super excited."
Meyer used her newfound excitement to race toward the finish, her family felt a rush of relief.
"Her (timing) chip failed to register at mile 21.2 of the run," Melissa's mother Lu Ann Meyer said. "Our entire family was convinced something was very wrong. You can imagine our excitement when we spotted her coming down the home stretch."
As Meyer celebrated, it became clear finishing the Ironman was more than just a race. It was an experience she'll never forget.
"The Ironman experience was incredible," Meyer said.