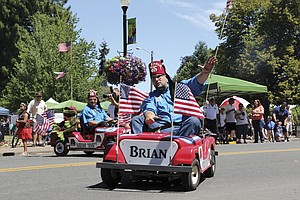 County taking sheriff applications
POLK COUNTY — The Polk County Board of Commissioners will soon be tasked with appointing a new sheriff upon the resignation of Sheriff Robert Wolfe.
Wolfe has been the Polk County sheriff since 1998.
The Board of Commissioners will hold an open selection process for the soon-to-be vacant position.
The board will begin accepting letters of interest on Sept. 1, and begin the selection process in the month of October.
The board should come to a decision by Nov. 4.
Any individual selected to be the next sheriff will need to meet the appropriate qualifications prior to appointment pursuant to Oregon law and the Oregon Department of Public Safety Standards and Training.
Direct any questions to the Polk County Personnel Department at 503-623-1888.
Pentacle names new exec director
WEST SALEM — Pentacle Theatre announced last week it has named Lisa Joyce as its new executive director.
Joyce served as the theater's interim executive director since December, following former director Randy Boyd's departure.
After a search that attracted applicants from throughout the United States and Canada, Joyce's experience, skills and vision for Pentacle made her the theater governing board's choice for the position.
As the new executive director, Joyce will focus on the board's strategic plan, especially developing sustainable funding and strengthening the theater's preparedness for the future. She has already implemented changes to enhance patron and volunteer experiences, such as seat selection for online ticket sales to improving employee morale.
"An engaged workforce is a critical tool for any business, particularly one this small," Joyce said.
Dallas police arrest two after warrant
DALLAS — Two people were arrested Thursday after Dallas officers served a search warrant at a home on Southwest Cherry Street.
Detectives seized suspected methamphetamine, paraphernalia and money. The investigation remains open, according to police. This is the third time Dallas detectives have served search warrants at this residence since December.

Arrested in the bust were:
• Jimmy Davis, 36, on charges of felony unlawful delivery of methamphetamine, two counts of misdemeanor endangering the welfare of a minor, and two counts of violating a release agreement. Davis is pending adjudication for arrests related to earlier search warrants served at the same residence.
• Jenny Hill, 29, on charges of felony unlawful possession of methamphetamine and four counts of misdemeanor endangering the welfare of a minor.
Library to show 'To Kill a Mockingbird'
DALLAS — The Dallas Public Library is holding a movie night Tuesday to mark the release of Harper Lee's new book, "Go Set a Watchman."
The manuscript was written several years before Lee's 1960 classic book, "To Kill a Mockingbird," but she did not release it for publication until this year. In honor of the new book release, the library will show the movie version of "To Kill a Mockingbird," starring Gregory Peck, Tuesday at 7 p.m. A copy of "Go Set a Watchman" will be offered as a door prize for those in attendance. For more information: www.facebook.com/dallaslibraryoregon.
Library art wall to feature local photographer Mittag
DALLAS — The July Dallas Public Library art display is a selection of photos by Ron Mittag.
His photography features close up images of objects containing intricate detail or patterns. Mittag uses reflected light and shadows, particularly in landscapes, architecture, and when showcasing flowers. Capturing the stylistic patterns of classic cars is another of Mittag's photographic passions.
Most of his photos on display at the library have been printed on canvas or metal.
Mittag, a Dallas resident since last year, has displayed his photos in art shows in Arizona and Oregon.
To view more of Mittag's art, go to www.Ronmittag.com.
Dallas Police officers look into report of dog attack
DALLAS — Dallas police are investigating a dog attack that reportedly happened Sunday night near the corner of Levens and Academy streets.
The incident was reported to police at about 9 p.m.
According to the preliminary investigation, the dog escaped from the backyard of a friend of its owner and attacked a neighbor's cat. The neighbor intervened and was bitten by both the dog — a pit bull — and the cat, suffering minor injuries.
Following the alleged attack, the dog was taken to it owner's home outside Dallas city limits where it has been quarantined.
The case remains under investigation.