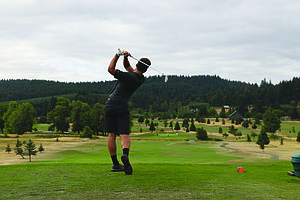 DALLAS — About 80 golfers descended upon Cross Creek Golf Course on Thursday morning. This was no ordinary tournament. This was an Oregon Golf Association (OGA) youth tournament.
"We had 79 kids out there, which is a pretty good showing for us," Cross Creek employee Dave Watson said.
This is the 10th year Cross Creek has been a part of OGA, Watson said. The youth tournament, open to OGA members aged 8-17, does more than teach kids the game of golf.
"It teaches them integrity and responsibility," Watson said. "I mean each player calls his or her own penalties. That's an important part of it and for kids to learn how to do that is amazing. It also teaches them discipline."
The OGA is a non-profit organization aimed at promoting, fostering and growing the game of golf.
Membership is available to both adults and children, and comes with benefits. Watson said he hopes events like these help young golfers learn to love the game — even when it can be difficult.
"It's a sport you love to hate," Watson said. "It can be so frustrating at times and then you hit that one good shot that comes off exactly the way you planned it, and that's what keeps you coming back."
Thursday's tournament saw players from Oregon and Washington compete. Among them included Dallas High's Kailee Curtis. Drawing golfers from multiple states is nothing new, Watson said, as many youth golfers make the trip to several tournaments throughout the year.
"The kids have a good time," Watson said. "A lot of them play multiple tournaments and they make some good friends from all over. It's a good competition for them."
While Thursday was all about youth golfers, the OGA is focused on getting golfers of any age started —it is never too late to begin.
"Almost every course has a teaching pro and, for a little money, you can get some instruction and it makes it so much easier for you to play," Watson said. "There are a lot of programs out there to help you get on the course and have fun."
Results from the OGA tournament were not available as of press time. But Thursday was a success by multiple measures, Watson said. And, as they have had for the past decade, Thursday's tournament provided as much fun for the volunteers running it as the players competing.
"We had 22 volunteers from the men's and women's clubs," Watson said. "They come back every year because it's so much fun. The kids have fun. The parents are happy and this is a great showcase for (Cross Creek). We try and have everyone who comes here leave in a good mood."