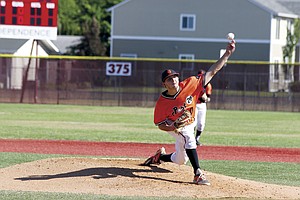 MONMOUTH — The Demarini Dirtbags aren't ending the regular season with a league title, but that hasn't changed the team's expectations for the American Legion baseball state tournament, which begins July 29.
The Dirtbags dropped two of three games against the Withnell Dodgers in the battle for first place. Pitcher Tucker Weaver earned Demarini's lone victory on Saturday at home, throwing a complete game during the 5-4 win.
"The defense worked their butts off the entire time," Weaver said. "They were making plays I thought would be hits for sure, but they were knocking every ball down and came through. Our bats came alive. I was just trying to slow down, take my time and keep the ball down."
Despite giving up four runs in the sixth inning, Weaver helped the Dirtbags shut out the Dodgers the rest of the way to preserve the victory.
"Tucker has a rubber arm and conditions a lot," coach Taylor Hetrich said. "We let him have the ball if he wanted it. I think Tucker got in a zone and competed all game. That's what it's all about — throwing strikes and giving your defense a chance to make plays."
Weaver is just one of several Polk County players to compete for the Dirtbags, joining Central's Luis Amador and Pete Mendezona, Dallas' Logan Hatley and Perrydale's Hunter Johnson.
"There's a lot of energy and great teamwork," Weaver said. "It's a lot of fun and there's a great atmosphere. I think there's more focus without school because you can just focus on baseball."
Helping to lead the squad is Hetrich in his first year as head coach of the Dirtbags. Hetrich, a former player at Western Oregon University, served as an assistant coach last season.
Making the leap from assistant to head coach hasn't been difficult, Hetrich said, thanks in large part to his players.
"They want to be out here more than any team I've ever been a part of," Hetrich said. "I couldn't ask for a better group of guys. It's a little different having to manage the game and filling out the lineup card. Other than that, it's a lot of fun. There's not a whole lot of coaching we have to do. These guys have been doing this their whole lives."
The Dirtbags closed out the regular season against Klamath Falls Tuesday after press time. Demarini's tournament opponent will be determined once all regular season games are finished.
Until then, Hetrich said the focus will be on refining and perfecting.
"We have some things to clean up offensively and defensively," Hetrich said. "But we feel we are playing well and that we can compete with anyone."