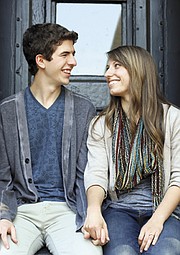 Quiring-Golden
Julia Michelle Quiring of Monmouth and Isaac Cory Golden of Monmouth are planning an August wedding.
The bride-to-be is the daughter of Ken and Ruth Quiring of Independence. Her fiance is the son of Milton and Lea Golden of Bandon.
Julia, a 2010 graduate of Santiam Christian High School in Adair Village, graduated from Corban University in Salem in 2014 with a Bachelor of Science. She works at Corban University in Salem as an adjunct professor.
Isaac, a 2010 graduate of Bandon High School, is a student at Western Oregon University working toward getting his degree in psychology. He works at Western Oregon University as a rock climbing specialist.
The wedding is set for Aug. 28 at Ron's Pond in Monmouth.