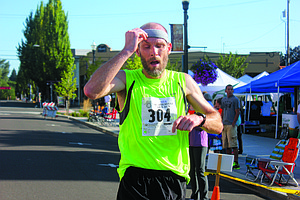 DALLAS — No matter if you are a competitive runner or someone looking to start getting active, the Summerfest Fun Run offers something for you.
The annual tradition features a 10-kilometer and 5K run/walk and a 2/3-mile kids/adult fun run.
Awards will be given out to first- and second-place finishers in seven age divisions for the 10K and 5K events.
"We added awards a few years ago to appeal to the more serious runners," organizer Trenda Locke said. "But we also encourage people who have never done competitive running to come out and participate and get moving. We try and appeal to both ends of the spectrum."
While the 5K and fun run were always designed to appeal to less experienced runners, the event's newest race, the 10K, was started to bring in a whole new crowd of runners.
"We started with just the 5K and fun run," Locke said. "One of the gals that used to work with us was encouraging us to do a 10K to reach a different group of people. It's worked really well."
Since then, the event has been growing, Locke said. But organizers don't want the event, which is completely run by volunteers, to get too out of hand too quickly.

"We want to keep our numbers that we had the previous year and add a few more," Locke said. "We would love continuing small growth. The part we struggle with is if we get too big, you look at some of the bigger runs and you put in a lot of time and that's their only job. That's not where we're at. We're all volunteers and this is our hobby for us, but we would love to see it grow in terms of exposure to running and funding more of the athletics. It's a little scarey too, though. We will just have to up our game, too. … It benefits the booster club, which benefits the kids' athletics. That part is really good."
Part of what sets the Summerfest Fun Run apart is the course it takes runners on, Locke said.
The 5K run/walk will travel north on Jefferson to Walnut Street before turning east and following Walnut to the Dallas Aquatic Center where participants will run a loop around the soccer field before returning to Walnut, heading south on Levens Street to Academy and back across Main Street.
The 10K race follows a similar course, but directs runners eastward from the aquatic center on Barberry before looping back via Hawthorne and Academy to LaCreole before heading west down Walnut through Dallas City Park.
"We want to showcase some of the city's running area," Locke said. "We've gotten feedback that runners like the change of scenery."
For any last-second planners, registration will be available at the Dallas Booster Club's booth during Summerfest, online at www.runsignup.com/SummerfestRun or the morning of the event.
As the Summerfest Fun Run hopes to enjoy another successful event, perhaps its biggest appeal is the local connection.

"You'll see the athletes, coaches and parents directing runners and giving encouragement," Locke said. "All of our awards are locally made. It makes this a little more personal."