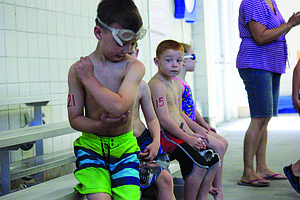 DALLAS — Fun is front and center at the 10th annual Dallas Summerfest Kids' Triathlon.
The race is open to kids ages 5 to 12, and focuses on introducing children to different physical activities and promoting a healthy lifestyle.
In addition, every finisher will receive a medal, giving them something to remember and celebrate.
"We want to give the kids a sense of accomplishment," organizer Tom Snyder said. "They get a medal for finishing something that is hard for some."
The first race begins at 10 a.m. with check-in starting at 9:45.
The first 50 competitors to check in will receive a T-shirt.
Cost is $15 for members of the Dallas Aquatic Center and $20 for nonmembers. Registration will be accepted the morning of the event.
Participants are broken up into age groups (5-6, 7-8, 9-10 and 11-12) and Snyder said he hopes that the kids' triathlon serves as a jumping off point to helping kids live a more healthy life.
"Most of the kids who do this event, they tend to have parents who are pretty active," Snyder said. "But we hope that this helps get all the kids excited to be more active."
The race begins with the swimming leg inside Dallas Aquatic Center, followed by a bike ride around Roger Jordan Community Park and ending with a run through the park's grassy area.
"Families can come down to the aquatic center, and we have a display on the front counter so they can see the course ahead of time," Snyder said. "They can even do a practice run if they'd like. We have certain things to work with to keep this safe. We didn't want kids crossing the street, so we had to come up with something that would work."
The main focus of the triathlon is to promote staying active and having fun. But Snyder said for participants, the triathlon can also be a chance to show off their athletic ability.
"I love watching the younger kids," Snyder said. "The transition from little kids who swim on noodles and then get on a tricycle and act like it's a competitive event, it's fun to see. They've got their game faces on."
While the kids are having a blast competing, those watching may get just as much, if not more, enjoyment from seeing the kids compete in the triathlon.
"Just come on down," Snyder said. "Even if you don't have a child participating, it's some really cheap comedy if you want to see something that's really fun."