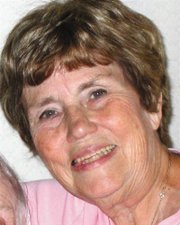 This summer has brought about its own special challenges — lots of good days filled with sunshine and blue skies, but the need to get up early to water gardens and flowers, and to be sure to keep the bird baths full of water, add more tasks to an already busy day. Gabriel and Lady, our resident golden retrievers, are disappointed to miss car rides when we run errands. It's more comfortable in the backyard, since dogs and hot cars are a bad idea.
The good news about hot days is that MI Town's libraries have all kinds of activities for kids of all ages. It's not only a cool and comfortable place to be on a hot summer day, but you can also beat the heat by discovering new and different things and travel the world — or even into outer space — by opening a book and getting lost between the pages. I can't remember when I didn't know how to read, and finding a library wherever I've lived has always been a top priority. We are so fortunate here to have the Western Oregon University library close by, too. Check either the Monmouth or Independence library websites to see what is new this week, and all through the summer.
The Western Oregon University campus was a regular tent city during the recent visit from Cycle Oregon participants. Lots of sunshine combined with lots of bike routes through communities and rural areas made it a fun experience for those who traveled quite a distance to enjoy our wonderful Willamette Valley. Everyone had an opportunity to visit local restaurants and wineries, as well as other businesses in the area. These events give us an opportunity to showcase our area and to encourage tourism.
Summer is also a great time for class reunions. Even if you haven't kept up with your classmates over the years, it's always so much fun to spend an afternoon or evening together reminiscing about the good old days — even if they weren't so long ago. For those of us of a certain age, nearly everyone agrees that the 50th reunion was just about the best.
Lots of political discussions going on in MI Town and just about everywhere else in our land, and that gives us an opportunity to make our voices heard — at town halls or other gatherings — and to let our elected officials (whether they are city, county, state or national) know our thoughts and wishes. If you have a problem or concern, call those who can help can make a difference. And please — register to vote!